Verbeterde besluitvaardigheid
met jouw data uit infor LN
Bedrijven presteren beter door Business Intelligence.  Business Intelligence biedt namelijk inzichten die je eerder niet had en stelt je zelfs in staat voorspellingen te doen. En dat gaat snel: met één druk op de knop brengt BI weer nieuwe inzichten en professionele analyses van data. Wij bieden de sleutel tot jouw database in infor LN of Baan, maar kunnen daarnaast ook data uit andere systemen (denk aan Dynamics, Salesforce, Excel, of andere versies van jouw ERP-systeem) koppelen om tot een compleet overzicht te komen. Dé moderne manier om bedrijfsprocessen te overzien en optimaliseren in alle organisatorische lagen. 
Toegepast op jouw voorkeur
De combinatie van jarenlange ervaring, gestandaardiseerde processen en gepersonaliseerde dashboards maakt het mogelijk om onze BI betaalbaar en snel te implementeren en aan te passen aan jouw voorkeuren. Met de standaard dataset per module krijg je met iqbs BI voor infor snel inzicht in zaken die aandacht nodig hebben. Hierbij wordt uiteraard rekening gehouden met persoonlijke wensen in de dataset(s) en rapportages, bijvoorbeeld waar het gaat om de veiligheid en zichtbaarheid van jouw informatie. Lees hier meer over hoe we BI implementeren.
Voordelen van iqbs BI voor infor LN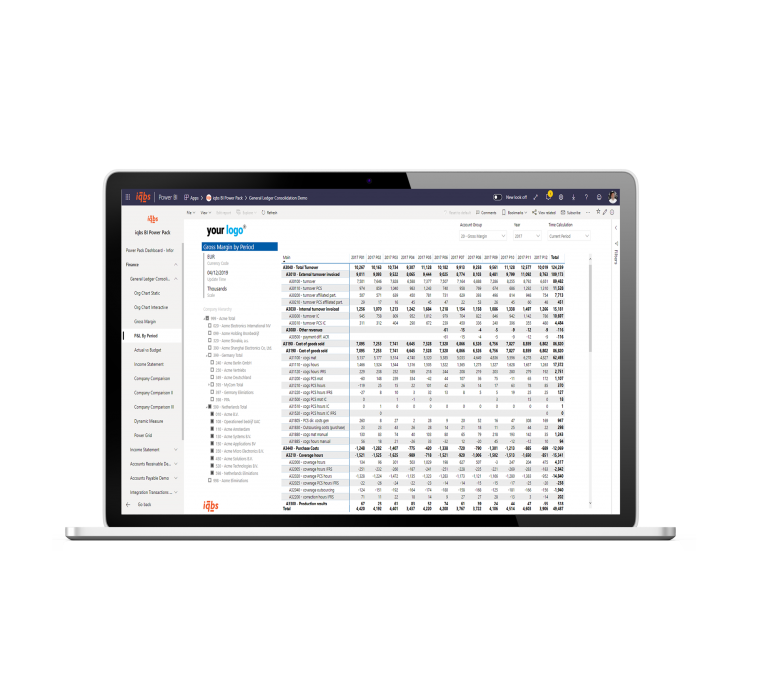 Bekijk onze BI voor infor webcast
Wil je zelf zien hoe onze BI oplossing werkt? Dan kun je op je eigen tempo onze webcast bekijken. Hierin vertellen we je precies hoe iqbs BI voor infor jouw bedrijf kan ondersteunen. Daarnaast laten we je stap voor stap zien hoe we het proces doorlopen in een demo. Wil jij zien hoe onze oplossing jouw bedrijf van slimme inzichten kan voorzien? Klik snel door via het formulier hiernaast!
Onze gestandaardiseerde oplossing bevat per module een aantal voorbeeldrapporten waarmee je direct inzicht hebt in de prestaties van de processen. Natuurlijk kun je hierin zelf aanpassingen doen zodat je gepersonaliseerde rapporten kunt optimaliseren.
De datasets en rapporten in iqbs BI voor infor LN worden aangeboden middels een webportaal waar gebruikers van waar dan ook ter wereld kunnen inloggen. Dit portaal is zowel via de computer als via mobiele apparaten toegankelijk.
Toegankelijke in Power BI
Al onze oplossingen maken we in Microsoft. De tool Power BI biedt de meest toegankelijke rapportagemogelijkheden, maar als je liever met een andere tool van Microsoft werkt dan kan dat natuurlijk ook. Precies zoals je gewend bent dus, maar dan inzichtelijker!
SafanDarley werkte vooral met datadumps vanuit Infor LN. In Excel probeerden ze daar zinnige informatie van te maken. Dankzij een project met iqbs werken nu eindgebruikers dagelijks met informatieve dashboards, over de materiaalvoorziening op de productieafdeling bijvoorbeeld, of voor verkoopkansen bij sales.
Maak nu kennis met onze Business Intelligence voor Infor! In ons gratis seminar leggen we je uit hoe eenvoudig en snel data uit uw Infor omgeving in handzame rapportages en dashboards kunt omzetten.
Gestandaardiseerde modules
Voor 7 modules in infor ln hebben wij een gestandaardiseerde oplossing, wat betekent dat we hiervoor relatief snel een stabiele BI-omgeving kunnen ontwerpen. Uiteraard kunnen we ook andere modules meenemen in ons project. Voor de volgende modules hebben we een standaard oplossing:
Hoewel infor's Birst functioneel overwegend goed wordt beoordeeld, wordt het maken van rapporten als complex en kostbaar beschouwd. iqbs BI is, zeker in combinatie met Power BI, hierin veel meer volwassen.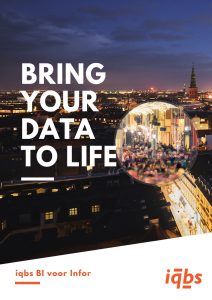 Download onze BI voor Infor whitepaper
Wil je meer weten over onze manier van werken, de technische details en waarom je voor iqbs BI voor infor zou moeten kiezen? Download dan onze whitepaper via het formulier hieronder.