Gebruik Power BI voortaan binnen Teams
Microsoft Ignite is nog maar net achter de rug en daarom zijn we blij om weer nieuwe updates te kunnen delen. Power BI wordt iedere maand geüpdatet, maar hoe werkt dat binnen andere Microsoft applicaties? Vandaag kijken we naar de combinatie van Power BI en de meest gedownloade applicatie voor samenwerken: Microsoft Teams.
De nieuwe Power BI-app voor Teams is nu beschikbaar! Wil jij ook je Power BI rapportages openen binnen jouw digitale werkruimte zonder deze te verlaten? Voeg dan snel de Power BI app toe aan jouw Teams omgeving. Met deze app kun je sneller data bekijken en delen zonder Microsoft Teams te verlaten, maar ook beter samenwerken doordat je de inzichten vanuit Power BI nu direct met je collega's kunt delen.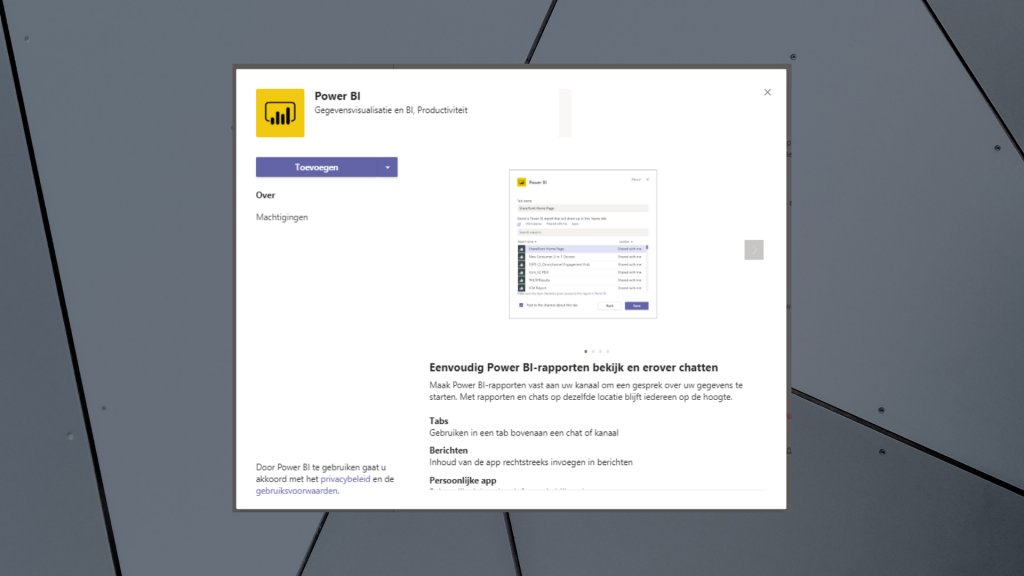 De vernieuwde Power BI app in Teams
Met de nieuwe Power BI-app kunnen gebruikers snel gegevens ontdekken, zoeken en bespreken zonder Teams te verlaten. Deze centrale, gepersonaliseerde thuisbasis voor gegevens in Teams zorgt ervoor dat inzichten altijd maar één klik verwijderd zijn van waar gesprekken plaatsvinden en waar de belangrijke beslissingen worden genomen.
De Power BI-app voor Microsoft Teams toont het starttabblad voor de gebruiker met toegang tot favorieten, recente items, werkruimten, aanbevolen apps en een e-learning center. Het was al mogelijk om de Power BI-inhoud bekijken en openen zonder Teams te verlaten. Je kunt rapporten, dashboards en apps rechtstreeks vanuit Teams bewerken. Het bevat vrijwel alle functies die ook in de Power BI Desktop of browser beschikbaar zijn.
Meer leren over samenwerken in Power BI en Teams?
We geven binnenkort een webinarreeks waarin we je graag meer vertellen over de samenwerkingsopties van Power BI. Wist je bijvoorbeeld dat je de comment secties kunt gebruiken maar ook Teams en SharePoint kunt inzetten om jouw rapportages te delen?
Aanmelden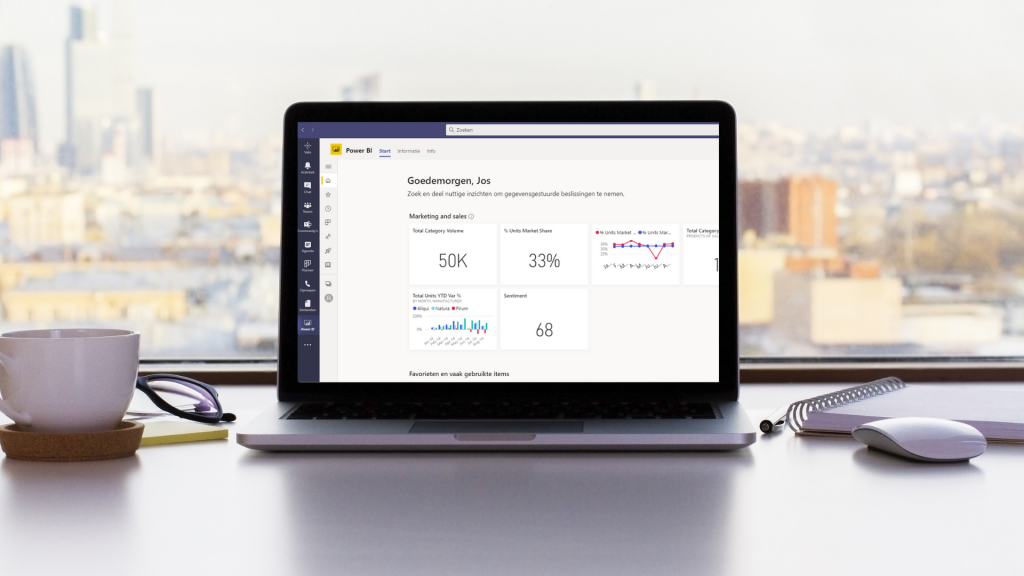 De nieuwste functies
Een vernieuwde Power BI-app voor Teams waarmee je alle Power BI-inhoud kunt bekijken en er direct binnen Teams mee kunt werken.
Nieuwe Teams Search ervaring om Power BI-inhoud te zoeken en te openen.
Nieuwe Teams Chat ervaringen om snel Power BI-inhoud te vinden en te delen met je collega's. Zo kunnen zij snel jouw dashboards openen.
Nieuwe dataset Discovery-ervaring om het vinden van gegevens makkelijker te maken en om rapporten en Excel-werkmappen te kunnen maken.
Aanvulling op de eerder toegevoegde tools
Start een chat in Teams tijdens het bekijken van rapporten en dashboards: stuur links naar kanalen en chats, inclusief de specifieke filters en weergaven om gesprekken te versnellen.
Voeg een Power BI-tabblad toe aan je kanaal of groepschat en maak het eenvoudiger en laagdrempeliger om de visuele rapporten te vinden die je team vaak gebruikt.
"Het is heel fijn dat je nu vanuit het beheer direct mensen toe kunt voegen aan een Teams pagina met bijbehorend Power BI tabblad, waardoor men nog sneller en makkelijker toegang heeft tot alle belangrijke dashboards en rapportages."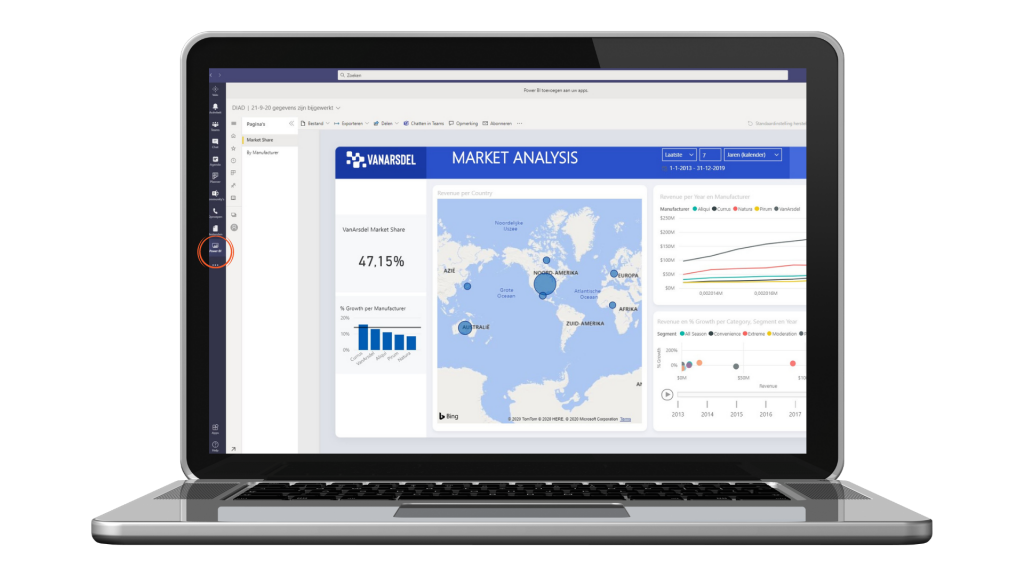 Tips om data te gebruiken in de dagelijkse sturing
Het zou natuurlijk helemaal handig zijn om een digitale werkcultuur creëren waarin data en gegevens worden gebruikt om betere en flexibelere beslissingen te nemen. We geven je vanuit Microsoft graag wat tips mee om Power BI dagelijks te gebruiken in jouw werk:
Voeg rapportages toe aan de kanalen van je teams als tabbladen. Omdat individuen in kanalen werken en discussiëren, helpt het toevoegen van rapporten aan de kanalen iedereen in het team om snel de gegevens te vinden die ze nodig hebben.
Het is soms moeilijk om de rapporten te vinden die je nodig hebt. Het is vaak makkelijker om je discussies over gegevens te onthouden. Met de Power BI-berichtextensie kun je in één klik de juiste links delen in een individuele of vergader chat.
Met de zoekintegratie kun je "@Power BI" in de zoekbalk vermelden om de meest recente rapporten te vinden en te openen.
Voeg beoordelingsrapporten en dashboards toe aan vergaderagenda's. Teams kunnen in vergaderingen de tijd nemen om hiermee de belangrijkste statistieken te bekijken. Door individueel werk in verband te brengen met de invloed van het werk op belangrijke  statistieken, moedig je het team aan om prioriteit te geven aan acties die uit een rapport komen. Door dit consequent te gebruiken, kan het team effectiever met deze data werken.
Wil je meer weten over de mogelijkheden van Power BI en de combinatie met Office 365? Neem dan contact op voor een gericht advies.
Wil je meer weten over de mogelijkheden van iqbs BI voor Infor LN?
Maak dan een afspraak of vraag een gratis demo aan.