Data is het nieuwe goud! En het delven van dit goud is ons vak. We helpen onze klanten echt inzicht en waarde te halen uit hun goudmijn. Zo zien organisaties waar ze moeten bijsturen en hoe ze grip houden op verandering. Microsoft technologie speelt hierin een belangrijke rol.
Business Intelligence staat voor inzicht brengen in grote hoeveelheden data, zodat je ervan kunt leren. Het is er voor iedereen die efficiënter wil analyseren, en data om wil zetten in relevante inzichten in minder tijd en in een veilige omgeving. Met één druk op de knop brengt BI weer nieuwe, relevante inzichten en professionele en veilige analyses. 
Je wilt informatie snel beschikbaar hebben voor jezelf of je business: tijdig, juist én volledig. Er zijn verschillende tools beschikbaar om snel mooie rapportages en dashboards te maken, zoals Excel, SSRS en natuurlijk Microsoft Power BI. Business Intelligence staat bij ons vooral ook voor grip op je databronnen, bijvoorbeeld door het ontwikkelen van een datawarehouse. Pas als je data klopt, kun je écht sturen op de KPI's.
Waarom kiezen voor Business Intelligence?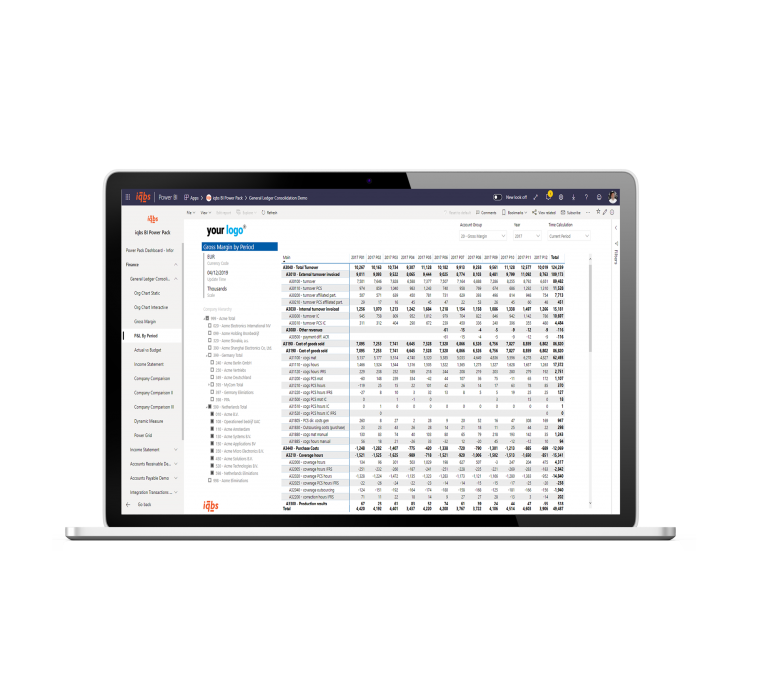 Krijg grip waar nodig, zie trends en doe voorspellingen
Onze praktijkervaring met een grote hoeveelheid applicaties en databases heeft ervoor gezorgd dat onze Business Intelligence klaar is voor vele (combinaties van) bronnen. Al meer dan 20 jaar helpen we bedrijven met inzicht in hun data uit Infor LN (Baan), SAP en Odoo. Ook als je data uit verschillende systemen wilt combineren ben je bij ons aan het juiste adres. Interactieve visuals hebben het antwoord al voordat je de vraag stelt!
Standaard connectoren voor jouw ERP
Met behulp van onze speciale en gecertificeerde connectoren en processen structureren we in topsnelheid data uit SAP, Infor LN en Odoo. Ook data uit andere systemen integreren we in ons datawarehouse. Werken met een datawarehouse zorgt er onder andere voor dat het opvragen met de rapportages je bronsystemen niet belast. Bij alles wat wij doen, maken we gebruik van de stabiele en innovatieve oplossingen van Microsoft.
Wij maken altijd gebruik van de stabiele en innovatieve middelen van Microsoft. Met Microsoft Power BI maken we bijvoorbeeld de mooiste visualisaties van jouw bedrijfsdata. Benieuwd hoe dit eruit ziet? We organiseren regelmatig inspiratiesessies waarin we verschillende mogelijkheden laten zien. 
Onze klanten raden ons niet alleen aan vanwege onze toegankelijkheid en de flexibiliteit van onze oplossing, maar zijn ook allemaal zeer tevreden over het resultaat.
Infor LN (Baan ERP)
Met onze gestandaardiseerde koppeling voor Infor LN is het mogelijk om in relatief korte tijd heldere analyses over jouw data te verkrijgen. Onze dashboards worden gepersonaliseerd en aangepast aan jouw wensen. We zorgen er samen voor dat je de inzichten krijgt die jíj nodig hebt. Natuurlijk zorgen we ook dat alle data nog steeds veilig is, en bepaal je zelf wie toegang heeft tot welk rapport of dashboard. Een toegankelijke oplossing voor meer inzicht en verdieping in jouw data uit Infor dus! 
We werken nauw samen met onze partner Korade, expert in implementatie van Infor LN. Samen met hen zijn wij erin geslaagd een gestandaardiseerde koppeling te ontwikkelen zodat we jouw data uit Infor snel beschikbaar hebben. Ook voor onze oplossing met Infor LN maken we gebruik van de stabiele en innovatieve technologie van Microsoft en zorgen we ervoor dat analyses en rapportages de ERP-omgeving niet belasten. 
Meer weten? Lees verder op onze pagina over Infor LN.
Odoo
SAP
Andere bronnen