jouw data uit de industrie
Zorgen dat er heldere rapportages beschikbaar zijn, zodat jij al je aandacht kunt vestigen op de complexiteit van de bedrijfsprocessen: dat is waar wij goed in zijn.
Samen met jou ontwerpen we met BI voor industrie een rapportagevorm die past bij de dagelijkse behoefte van jou en jouw collega's. We vinden het belangrijk de rapporten zó inzichtelijk te maken dat ze voor alle gebruikersgroepen duidelijk zijn. Alleen zo creëer je inzicht waar zowel directie als de productiemedewerker mee kan werken als dat nodig is.
Op deze manier helpen we je om continu te verbeteren en de processen te kunnen aanscherpen. Tevens zien we dat het leidt tot een hogere klant- en werknemerstevredenheid en een hogere marge voor jouw organisatie. Klinkt goed, toch? Onze consultants maken modulaire Business Intelligence voor vrijwel alle bronsystemen, of een mix hiervan. Onze rapportages zijn veelal gebaseerd op het betrouwbare en innovatieve Microsoft Power BI, maar als een andere rapportagevorm jou beter past dan helpen we natuurlijk ook.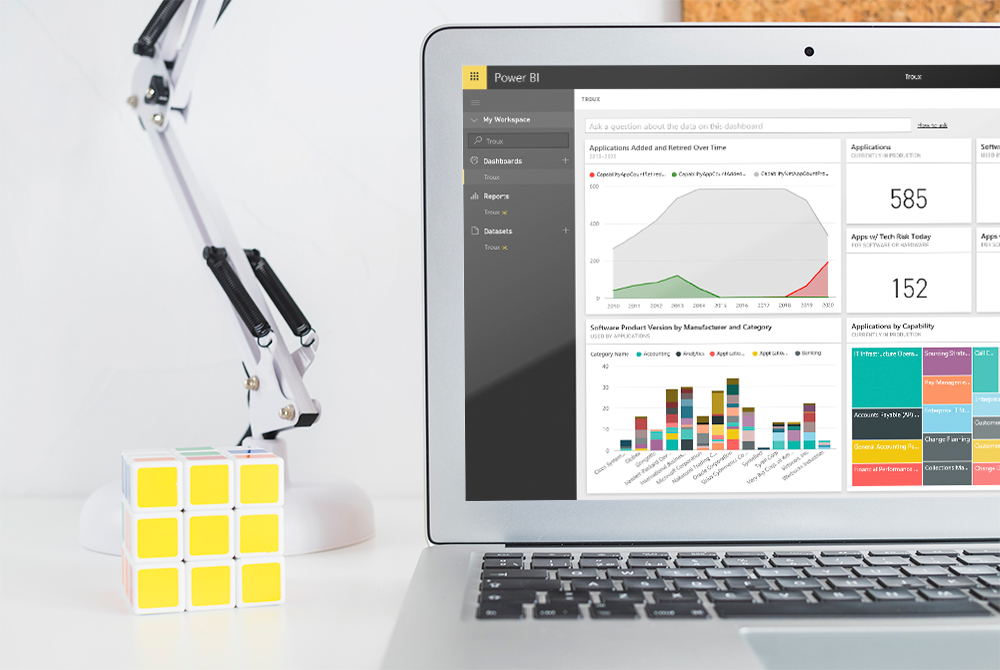 Beter, sneller en slimmer werken met de juiste cijfers? Wij denken dat je behoefte hebt aan een helder overzicht in alle processen. Daarom brengen wij graag niet de cijfers, maar de resultaten in kaart.Uiteraard doen we dit met de mogelijkheid om vervolgens in te zoomen naar de cijfers – nadat je de belangrijke conclusies al hebt kunnen inzien uit een visueel rapport. Alleen zo kun je snel de focus verleggen van openstaande facturen naar onderhanden werk; van liquiditeit naar cashflow en van  eigen organisatie naar die van je klant.
We kunnen de interpretatie van jouw salesinformatie koppelen aan KPI's en combineren met verschillende bronsystemen van waaruit je dagelijks werkt. Niet alleen in je ERP-systeem, maar ook in andere software is data opgeslagen die je graag inzichtelijk hebt om erop te anticiperen. Mix jouw data nog met openbare big data, en je bent helemaal klaar voor de toekomst! Wij adviseren dan Business Intelligence in Power BI. Deze applicatie heeft erg veel functionaliteiten tegen lage kosten. Je maakt hierin gemakkelijk trendanalyses of geavanceerde modellen om gecombineerde data inzichtelijk te krijgen.
Welke inzichten zorgen voor een optimaal productieproces? Waar heeft materiaaltekort ons de afgelopen tijd geld gekost? Hoe gaat met met de leverbetrouwbaarheid? Wat kunnen we zeggen over de oorzaak hiervan en voorspellingen hiervoor? Wanneer voorspellen we een piek in productie, zodat we daar vroegtijdig op kunnen anticiperen? iqbs Business Intelligence kan je zomaar een antwoord kunnen bieden op deze vragen. 
Door het enthousiasme van onze mensen raken we echt in een stroomversnelling met Power BI. De nieuwe rapporten worden als een olievlek over de organisatie verspreid.