BI voor groot- en detailhandel
Onze Business Intelligence helpt om grote hoeveelheden data om te zetten in inzichten die voor jou van belang zijn. Uiteraard bepalen we samen wat dit inzicht in jouw geval is. Samen zorgen we dat niet alleen jij, maar ook je collega's waarvoor de inzichten relevant kunnen zijn, een snel overzicht krijgen van de processtromen in de organisatie. Zo wordt het niet alleen makkelijker, maar houd je ook tijd over om de focus te verleggen naar zaken die ook belangrijk zijn.
We geven inzicht in o.a. inkoop-, verkoop- en financiële gegevens zoals omzet, winst en openstaande posten, voorraadstatus en leverbetrouwbaarheid– waarbij de data en visualisaties uiteraard alleen zichtbaar zijn voor de collega's die deze data nodig hebben. Door de mogelijkheid om data uit verschillende systemen (denk aan je ERP-systeem, maar ook aan CRM-systemen zoals Salesforce, Dynamics of Mailchimp) te combineren, gebruik je één tool waaruit iedereen binnen de organisatie snel en veilig de juiste conclusies kan halen. 
Daarom BI in retail en groothandel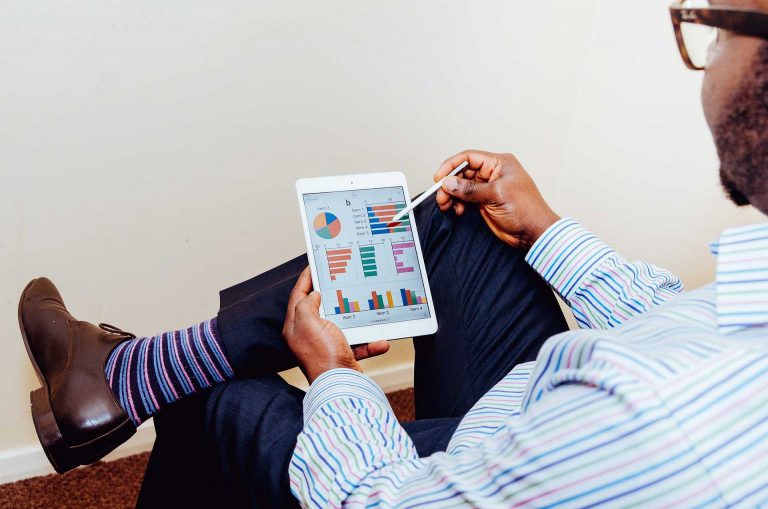 Beter, sneller en slimmer werken met de juiste cijfers? Wij denken dat je behoefte hebt aan een helder overzicht in alle processen. Daarom brengen wij graag niet de cijfers, maar de resultaten in kaart.
Uiteraard doen we dit met de mogelijkheid om vervolgens in te zoomen naar de cijfers – nadat je de belangrijke conclusies al hebt kunnen inzien uit een visueel rapport. Alleen zo kun je snel de focus verleggen van openstaande facturen naar onderhanden werk; van liquiditeit naar cashflow en van  eigen organisatie naar die van je klant.
Welke inzichten zorgen voor optimale voorraad? Wat zijn de hardlopers? ABC-analyses over de voorraad, marges per productgroep of product en orderregel, historie van levertijden en transportkosten en de oorzaken & toekomst hiervan; iqbs Business Intelligence zou je zomaar het antwoord kunnen bieden.
We kunnen de interpretatie van jouw salesinformatie koppelen aan KPI's en combineren met verschillende bronsystemen van waaruit je dagelijks werkt. Niet alleen in je ERP-systeem, maar ook in andere software is data opgeslagen die je graag inzichtelijk hebt om erop te anticiperen. Mix jouw data nog met openbare big data, en je bent helemaal klaar voor de toekomst!
Wij adviseren dan Business Intelligence in Power BI. Deze applicatie heeft erg veel functionaliteiten tegen lage kosten. Je maakt hierin gemakkelijk trendanalyses of geavanceerde modellen om gecombineerde data inzichtelijk te krijgen.
Met Marketing Intelligence ontwikkel je slimme marketingacties uit jouw markt- en klantdata. Door de extreme groei van data in webshops en e-commerce platvormen kun je niet meer zonder! Succesvolle webshops integreren Marketing Intelligence in hun online strategie.
In samenwerking met onze partner Fosby, expert in Online Marketing, maken we grote hoeveelheden data bruikbaar in jouw digitale marketingstrategie. Marketing Intelligence geeft inzicht waardoor je ontdekt hoe en waar de klant zich beweegt. Pak deze handvatten vast en zorg dat je conversie verhoogt met de juiste campagnes!
Omloopsnelheid, levertijden, winstmarges, ABC analyse; Business Intelligence helpt om grote hoeveelheden data om te zetten in inzichten die voor jou van belang zijn.