IBCS: een rapportage standaard voor makkelijk te begrijpen data
IBCS staat voor: International Business Communication Standards. Dit is een set aan regels en standaarden voor het presenteren van informatie op een duidelijke, effectieve en consequente manier. Het doel? Betere communicatie van zakelijke informatie volgens een gestandaardiseerde presentatiewijze. Dit zorgt voor te beter begrijpen, ondubbelzinnige informatie die visueel aantrekkelijk is.

De IBCS-standaard in het kort
IBCS biedt richtlijnen voor het maken van grafieken, tabellen, dashboards en andere vormen van visualisaties. Deze zijn gebaseerd op een aantal fundamentele principes, zoals het gebruik van een consistent kleurenschema, duidelijke labeling en het vermijden van misleidende of verwarrende (visuele) elementen. De standaard is ontwikkeld door Hichert & Partner, een adviesbureau dat is gespecialiseerd in informatiedesign en visualisatie. 
Wereldwijd opgepakt als raamwerk
Wellicht zegt de naam Stephen Few je iets? Ook hij dacht na over de beste manier om een boodschap weer te geven. Je zou zijn methodiek een voorganger kunnen noemen van IBCS. De IBCS-normen worden inmiddels wereldwijd gebruikt door organisaties en bedrijven.
Wat zijn de richtlijnen voor grafieken en tabellen?
Gebruik kleuren zorgvuldig en consistent. Lichte kleuren voor gegevenspunten en donkere kleuren voor aslijnen en labels.
Gebruik een uniforme schaal voor vergelijkbare gegevens. Voor grafieken met verschillende meeteenheden maak je gebruik van een gecombineerde as.
Gebruik een duidelijke en beknopte titel om de grafiek of tabel te introduceren én geef voldoende context.
Kies de juiste grafieksoort. Bijvoorbeeld een staafdiagram om categorische gegevens weer te geven en een lijndiagram voor trendgegevens.
Voeg annotaties toe om belangrijke informatie te benadrukken.
Beperk het aantal gegevenspunten. Een grafiek met te veel gegevenspunten wordt onoverzichtelijk.
Power BI bevat een aantal IBCS-gecertificeerde visualisaties, zoals de custom visuals van Zebra BI, TrueChart en InfoRiver. Deze visualisaties zijn ontworpen volgens de IBCS-richtlijnen. Ook bevat Power BI verschillende kleurenpaletten die voldoen aan de richtlijnen.
Sjablonen die voldoen aan de IBCS-richtlijnen worden in Power BI ondersteund. Deze sjablonen maken het gemakkelijker om rapporten te maken omdat ze de vereiste elementen bevatten, zoals titels, verklarende tekst en bronvermelding.
Het is in Power BI mogelijk om annotaties (commentaar) toe te voegen aan grafieken en tabellen. Dit maakt het gemakkelijker om belangrijke informatie te benadrukken en de interpretatie te vergemakkelijken.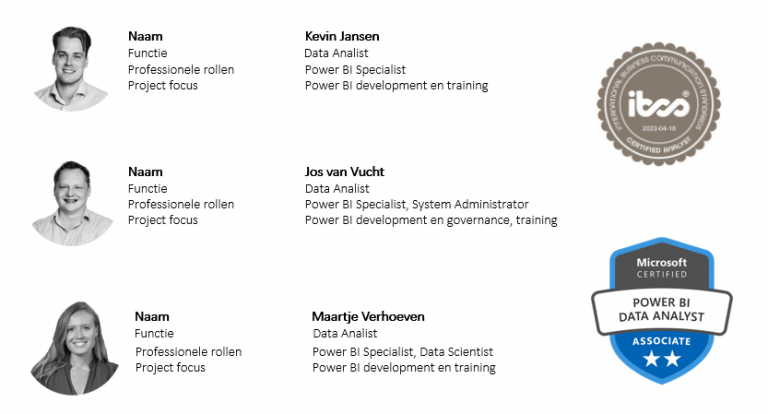 Bij iqbs zetten we deze standaard in voor het ontwerpen en bouwen van Power BI rapportages en dashboards bij onze klanten. We hebben een intern team van IBCS® Certified analysts. Zij hebben de richtlijnen van IBCS volledig geïntegreerd in hun werkzaamheden. Voor de realisatie wordt een specifieke Power BI custom visual ingezet: namelijk die van onze partner Zebra BI.