SAP data analyseren met de Business Intelligence oplossing van iqbs
Maak met één druk op de knop een professionele analyse van jouw bedrijfsdata met onze business intelligence oplossingen voor de bedrijfssoftware SAP. Wij kunnen sneller dan ooit de SAP data van jouw bedrijf beschikbaar maken in de Microsoft Data Analytics oplossingen. Dit visualiseren we in Power BI, waardoor je weer grip krijgt op de omzetcijfers, kosten en klanten. We halen de data uit het bronsysteem SAP en bouwen in een datawarehouse een historie aan data op, waardoor ook trendanalyses mogelijk worden.
Benieuwd naar onze BI oplossing voor SAP-systemen? Bekijk dan onze webcast. Hierin laten we zien hoe we SAP-data omzetten in heldere rapportages.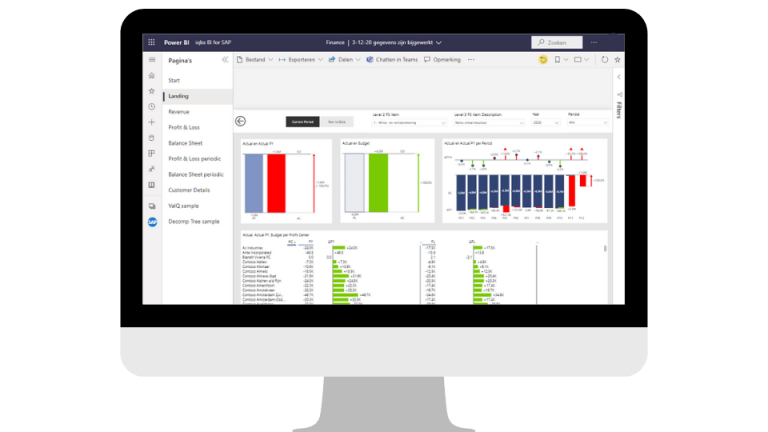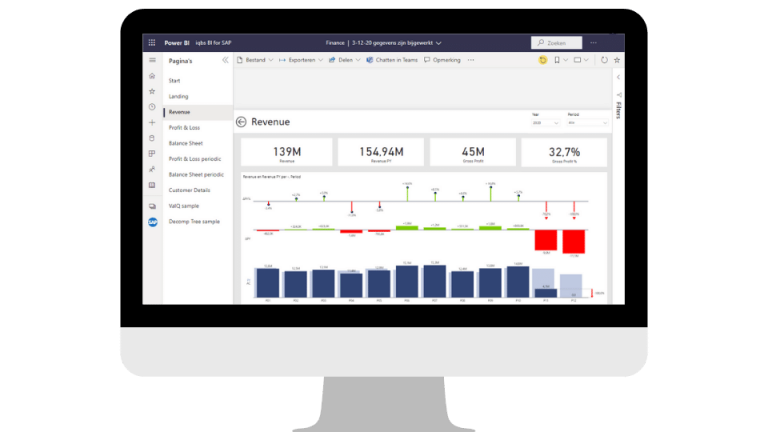 Hoe werkt de oplossing voor een SAP systeem?
Wij implementeren Business Intelligence oplossingen door het toepassen van een geautomatiseerd ETL proces. ETL staat voor Extract, Transform and Load. We halen data uit verschillende bronsystemen (Extract). Deze data modelleren en combineren we tot één databron van feiten en dimensies, een datawarehouse (Transform). Tot slot laden (Load) we de data en distribueren we dit in verschillende datasets. Uit deze datasets kun je met bijvoorbeeld Power BI of Excel data laden. Visualiseer en rapporteer vervolgens eenvoudig en focus op dat wat aandacht nodig heeft.
Ons iqbs BI framework vertaalt data naar toegankelijke dashboards en rapportages. Binnen het geautomatiseerde ETL-proces hebben we intelligente kubussen (iqbs) en powerpacks ontwikkeld.
Vanuit het datawarehouse worden datasets geladen. Wij hebben op basis van jarenlange ervaring standaard datasets ontworpen en onderverdeeld in de volgende cubes:
Voor iedere cube hebben we Power BI rapporten ontworpen. Wanneer je de data inlaadt van SAP, zie je direct een informatief en bruikbaar rapport. Gebruik deze rapporten direct of als inspiratie bij het bouwen van nieuwe rapporten.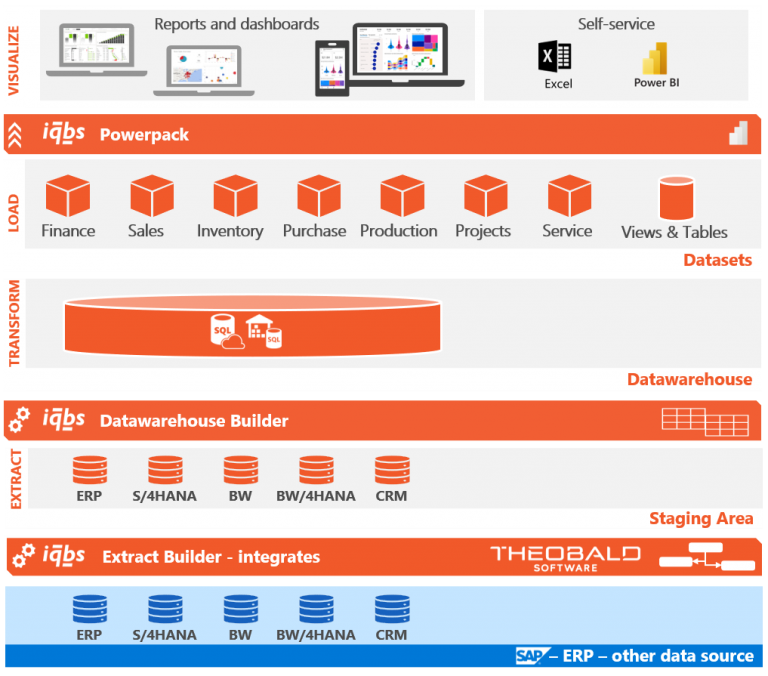 Gecertificeerde SAP koppeling: Theobald Software
Om de data uit een SAP systeem te ontsluiten, gebruiken we een gecertificeerde koppeling naar SAP. We hebben de SAP gecertificeerde Xtract producten van Theobald geïntegreerd in onze Extract Builders. Iqbs is dé partner van Theobald software in de Benelux.
iqbs BI oplossing met verschillende data systemen
Werk je met het SAP systeem, maar ook met andere systemen, dan wil je de data kunnen combineren voor de beste inzichten en rapportages. Dat is juist ons vak. Wij zorgen dat alle data uit de verschillende systemen worden gecombineerd in één datawarehouse, middels ons geautomatiseerde ETL proces.
SAP data rapportages met Power BI
Wij raden aan om te werken met Microsoft Power BI voor visualisaties en rapportages. Deze Microsoft oplossing is gemakkelijk en toegankelijk voor iedereen. Je kunt snel een eenvoudige, maar mooie rapportage maken. Je hebt veel mogelijkheden, zoals custom visuals, filter opties of het toevoegen van extra databronnen. Alles om het inzicht in, en de grip op je bedrijf te vergroten.
Alle dashboards en rapporten kunnen gemakkelijk en op een veilige manier binnen en buiten de organisatie worden gedeeld. Bepaal zelf wie welke informatie wel of niet te zien krijgt. Met de mobiele app voor je telefoon of tablet heb je altijd alle dashboards bij de hand.
3 redenen om voor Power BI te kiezen
Voorbeelden van SAP rapportages in Power BI
We laten je graag een voorbeeld zien van een SAP rapportage in Power BI. Ervaar zelf hoe gemakkelijk je een Power BI dashboard kunt opzetten en delen. 
Met iqbs voor SAP ontstaat er een krachtig en flexibel BI platform door het toepassen van slimme iqbs BI standaarden en beheersbare integratiemogelijkheden van Theobald naar SAP. Zo kan de gebruiker focussen op de daadwerkelijke informatieanalyse.
In deze webcast kun je zien hoe wij jouw SAP-data door middel van Theobald Software en ons eigen BI-framework om kunnen zetten in heldere Power BI rapportages. Zo haal je alles uit jouw SAP systeem door de inzichten die uit je data komen in te zetten om je eigen bedrijf te verbeteren.