SAP data analyseren met de Business Intelligence oplossing van iqbs
iqbs BI: meer dan Power BI rapporten
Bedrijven presteren beter met behulp van Business Intelligence. Met de inzet van een goed data platform krijg je meer grip op je processen en KPI's. Vervolgens kun je met data science patronen ontdekken die belangrijke business vragen beantwoorden.
Sturen op data door te combineren
We zien veelal dezelfde argumenten om te kiezen voor een oplossing zoals SAP ERP of S4/HANA. Denk aan meer grip en inzicht. Naast je ERP-software heb je mogelijk nog meer software draaien en dus beschik je over meer databronnen. Het combineren van die data is cruciaal voor het goed kunnen sturen op data en daar ligt onze kracht.
Met iqbs BI voor SAP krijg je een modern datawarehouse in Microsoft Azure, of on-premises in SQL. We realiseren dit over alle systemen heen. Eén waarheid voor elk feit, over alle denkbare dimensies.
Toegang tot SAP-data is altijd een uitdaging geweest; ook als die data zich in de cloud bevindt. De bedrijfslogica , ook wel jullie manier van werken, kan namelijk op verschillende lagen in SAP worden geborgd.
Met de connectoren van Azure Data Factory (ADF) ontsluiten we de data uit verschillende lagen van SAP. In het geval van een on-premise installatie gebeurt dit met Theobald software. Uit tabellen, query's, rapporten of BW-cubes. Zo maken we een keuze welke logica wordt hergebruikt in de rapportage van iqbs BI voor SAP.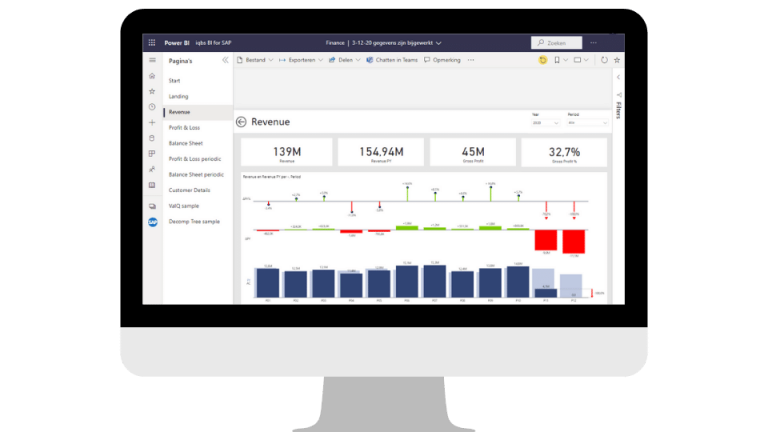 iqbs BI voor SAP: een modern datawarehouse
Met iqbs SAP BI hebben we onze jarenlange ervaring met BI en SAP omgezet naar geautomatiseerde processen en rijke datasets per SAP-module. We kunnen snel implementeren en leveren een schaalbaar dataplatform, voor vandaag én de toekomst.
Het iqbs BI voor SAP platform wordt geleverd met een brede set Power BI rapporten die je zelf kunt uitbreiden met rapporten en analyses. Rapportage-standaarden, zoals IBCS, kunnen organisatiebreed worden geborgd.
Ontsluit naast SAP meerdere databronnen om maximaal gebruik te maken van de kracht van iqbs voor SAP. Voeg data uit Infor, Dynamics of Salesforce samen met operationele data uit SAP. Zo heb je steeds één waarheid, voor alle gebruikers.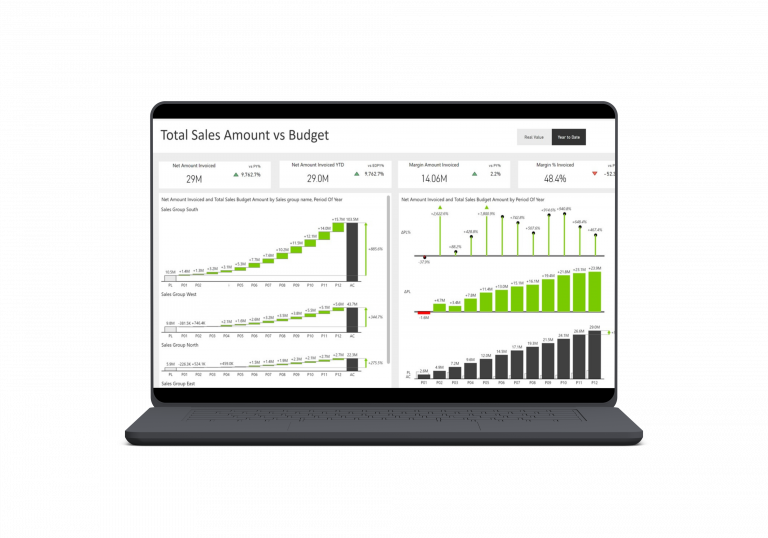 Ons iqbs BI voor SAP dataplatform
Het Microsoft BI dataplatform voor SAP dat wij iqbs BI voor SAP noemen, bestaat uit een aantal lagen. In lijn met de stappen om geautomatiseerd data voor te bereiden voor rapportage en analyse. Voorheen heette dit ETL, (Extract Transform en Load). In een modern datawarehouse, op basis van een datalake, kennen we deze stappen als Ingest, Store, Transform.
We laden data uit verschillende bronsystemen (Ingest) in het datalake als raw data. Deze data modelleren en combineren we (Curate) tot één databron van feiten en dimensies (een datawarehouse, ook wel Store). Tot slot prepareren we de data (Transform) en distribueren we dit in datasets (Cubes). Cubes worden in Power BI gebruikt als bron voor rapportages.
Vanuit het datawarehouse worden datasets geladen. Wij hebben op basis van jarenlange ervaring standaard datasets ontworpen en onderverdeeld in de volgende cubes:
Voor iedere cube hebben we Power BI rapporten ontworpen. Wanneer je de data inlaadt van SAP, zie je direct een informatief en bruikbaar rapport. Gebruik deze rapporten direct of als inspiratie bij het bouwen van nieuwe rapporten.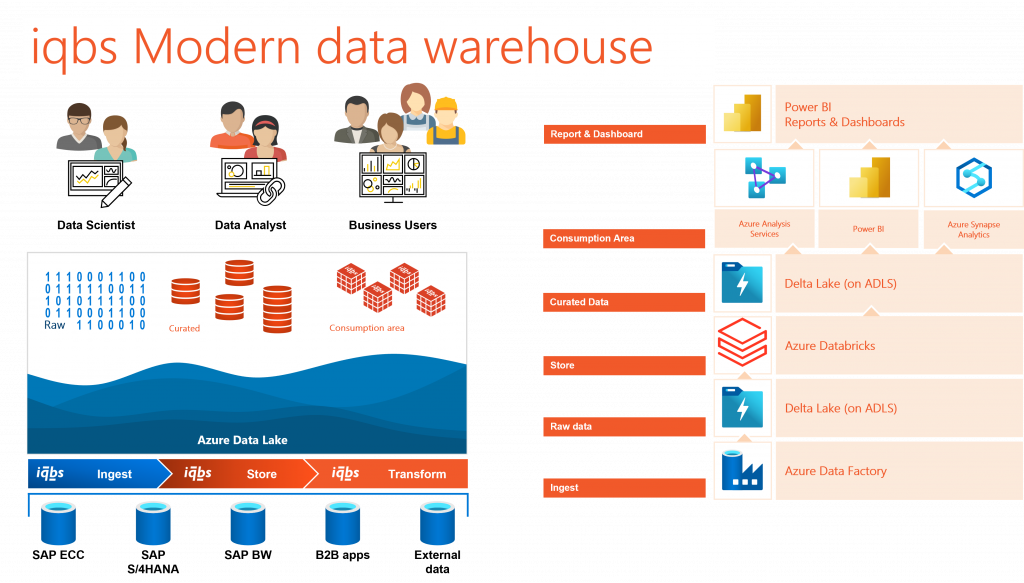 Om de data uit SAP te ontsluiten, maken we gebruik van de SAP connector van Azure Data Factory (ADF).
In geval van een hybride of on-premises oplossing hebben we ook de mogelijkheid gebruik te maken van gecertificeerde Xtract producten van Theobald. Deze zijn geïntegreerd in ons dataplatform. iqbs is namelijk dé partner van Theobald software in de Benelux.
Of we iqbs BI nu uitrollen in Azure of op on-premises SQL; met iqbs software standaardiseren en automatiseren we het beheer van het datawarehouse en datalake.
Zo houd je grip op alle databronnen, feiten en dimensies en creëert één waarheid, voor iedereen.
Met Row Level Security zorg je dat gebruikers alleen toegang hebben dat dat wat relevant is voor hen.
SAP data rapportages met Power BI
Wij raden aan om te werken met Microsoft Power BI voor visualisaties en rapportages. Deze Microsoft oplossing is gemakkelijk en toegankelijk voor iedereen. Je kunt snel een eenvoudige, maar mooie rapportage maken. Je hebt veel mogelijkheden, zoals custom visuals, filteropties of het toevoegen van extra databronnen. Alles om het inzicht in, en de grip op je bedrijf te vergroten.
Alle dashboards en rapporten kunnen gemakkelijk en op een veilige manier binnen en buiten de organisatie worden gedeeld. Bepaal zelf wie welke informatie wel of niet te zien krijgt. Met de mobiele app voor je telefoon of tablet heb je altijd alle dashboards bij de hand.
3 redenen om voor Power BI te kiezen
Voorbeelden van iqbs SAP rapportages in Power BI
We laten je graag een voorbeeld zien van een SAP rapportage in Power BI.
Met iqbs voor SAP ontstaat er een krachtig en flexibel BI platform door het toepassen van slimme iqbs BI standaarden en beheersbare integratiemogelijkheden van Theobald naar SAP. Zo kan de gebruiker focussen op de daadwerkelijke informatieanalyse.
In deze webcast kun je zien hoe wij jouw SAP-data door middel van Theobald Software en ons eigen BI-framework om kunnen zetten in heldere Power BI rapportages. Zo haal je alles uit jouw SAP systeem door de inzichten die uit je data komen in te zetten om je eigen bedrijf te verbeteren.