Maak snel dashboards en rapportages met Power BI die op elk device toegankelijk zijn. Zo heb je beveiligde analyses binnen handbereik voor iedereen in je organisatie.
Power BI heeft zich inmiddels bewezen als marktleider. Het is en blijft een rijke en krachtige oplossing die meeschaalt met de behoefte van je organisatie. Dankzij de verregaande integratie met het Azure Data & Analytics platform, onder de naam Microsoft Fabric, nemen de mogelijkheden steeds verder toe.
Waarom kiezen voor Power BI
Wij kiezen al jaren voor Power BI; net als vele bedrijven wereldwijd. Het maakt gegevensvisualisatie en rapportage eenvoudig met interactieve dashboards en grafieken. Het integreert gegevens uit verschillende bronnen en daarnaast ondersteunt het self-service analyse, waardoor medewerkers zonder technische kennis inzichten kunnen verkrijgen.
Met geavanceerde analysemogelijkheden en voorspellende modellen kunnen bedrijven bovendien diepere inzichten verkrijgen en toekomstige trends voorspellen. Daarnaast maak je eenvoudige samenwerking en het delen van rapporten mogelijk.
Kortom, dit krachtige BI-platform is perfect voor bedrijven die op zoek zijn naar actiegerichte analyses en datagedreven besluitvorming.
Meer dan een mooi dashboard
Power BI biedt organisaties aanzienlijke business-voordelen, onder andere dankzij de naadloze integratie met Azure en back-end componenten zoals Azure Data Factory (ADF), Databricks en Synapse Analytics. 
Deze integratie resulteert in een krachtig gegevensanalyse-ecosysteem dat helpt om waardevolle inzichten te genereren en betere beslissingen te nemen. Wij kunnen met behulp van ADF het ophalen en verwerken van data automatiseren; dit bespaart tijd en verbetert de kwaliteit van dashboards.
De geavanceerde analyse van Synaps en Databricks opent de deuren naar data science, machine learning en voorspellende modellen. Dat is de toekomst! Trends en ontwikkelingen doorgronden ligt hierdoor binnen handbereik. Met Fabric is Microsoft nog een stap verder gegaan en worden de verschillende onderdelen nog meer als één oplossing aangeboden.
Verder lezen in onze whitepaper?
Kies voor een eenvoudige, kostenbesparende en laagdrempelige manier om uit verschillende databronnen informatieve visuals te ontwikkelen en waarmee je ontdekkingen kunt delen binnen je organisatie.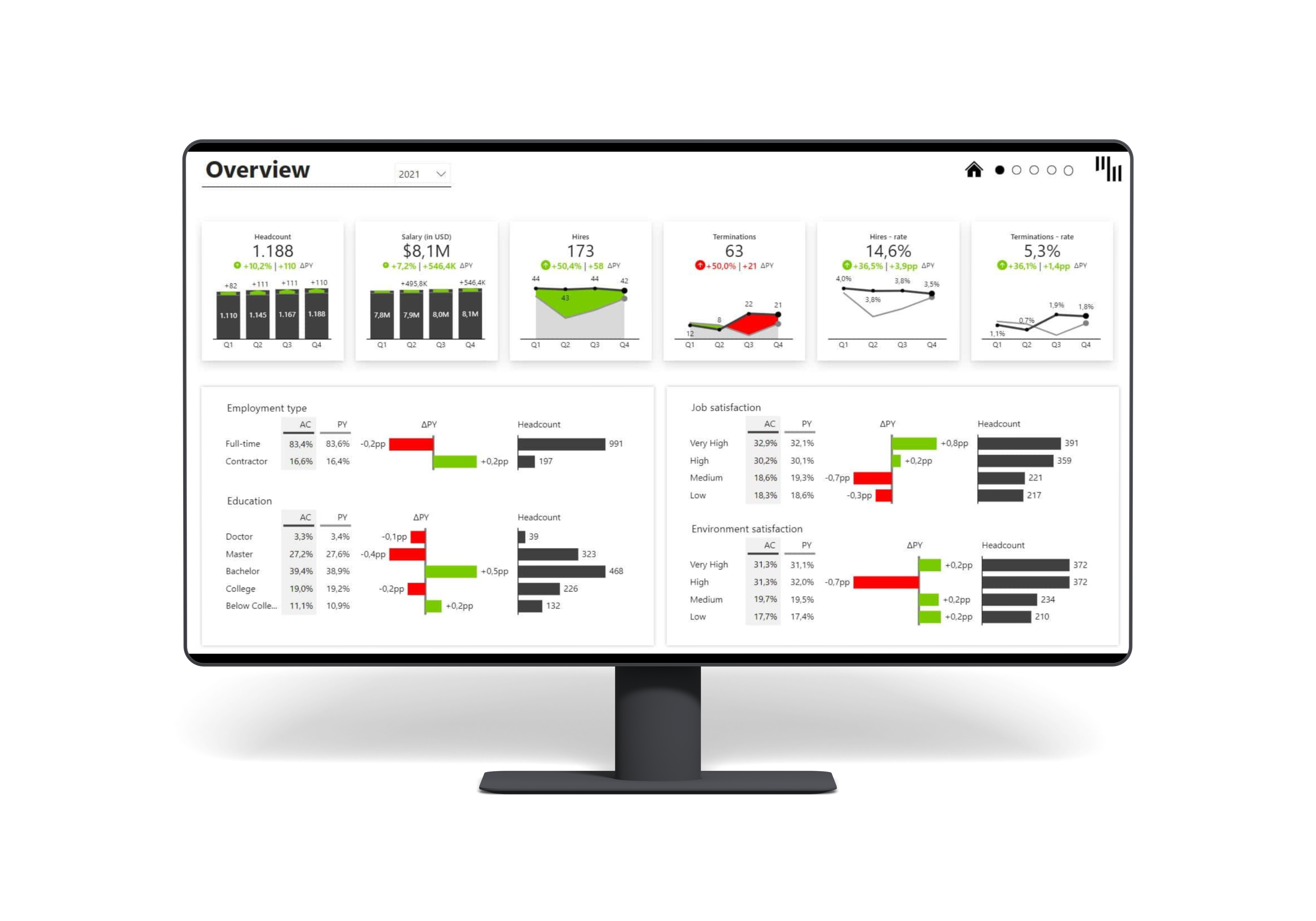 De start is met Power BI Desktop, de ontwikkeltool om datamodellen, rapporten en dashboard te ontwerpen en publiceren. Deze is kosteloos, maar stelt je niet in staat om rapporten te delen met collega's en anderen. De keuze in de oplopende abonnement zit hem dan vooral in de capaciteit, de grootte van de datamodellen en het wel of niet gebruiken van big-data tools. 
Belangrijk om te benoemen: Power BI is geen onderdeel van het Microsoft Fabric abonnement. Het is wel onderdeel van de oplossing en het platform; maar Microsoft heeft er voor gekozen om Power BI apart aan te bieden als subscription.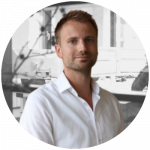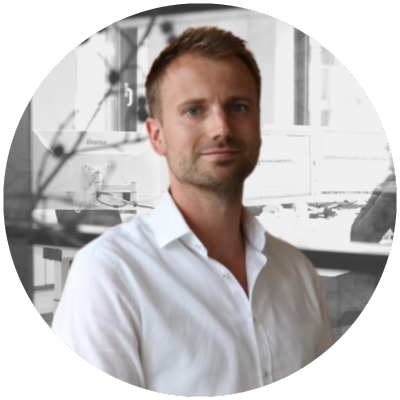 Alle bedrijfsinformatie zo inzichtelijk dat je er écht conclusies uit kunt trekken. Zonder dat je steeds een IT-afdeling nodig hebt! We vertellen je graag meer.
Wat zeggen anderen over de BI-tool
Gartner's Magic Quadrant
Microsoft is al 14 jaar op rij een leider in Gartner's Magic Quadrant for Analytics & Business Intelligence platforms. Goed om te vermelden: de Gartner Quadrant gaat niet alleen over Power BI, maar over het gehele data & analytics platform van Microsoft, waar dit een integraal onderdeel vanuit maakt.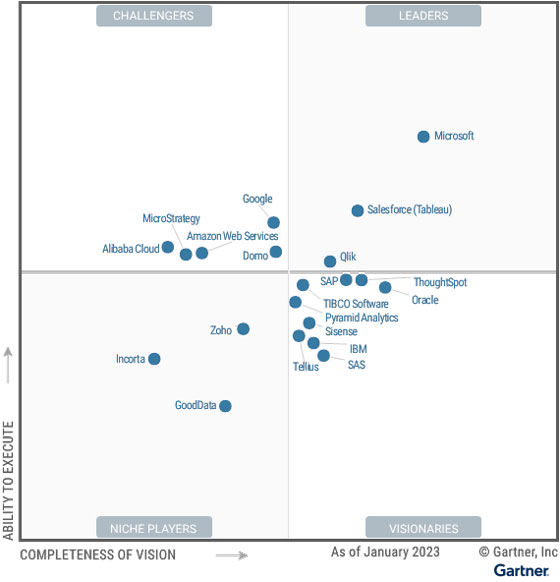 The Forrester Wave
In onderzoek (Q2, 2023) erkent onderzoeksinstituut Forrester Microsoft als leider in enterprise Business Intelligence platformen. Microsoft heeft zelfs de hoogste score gekregen in deze categorie.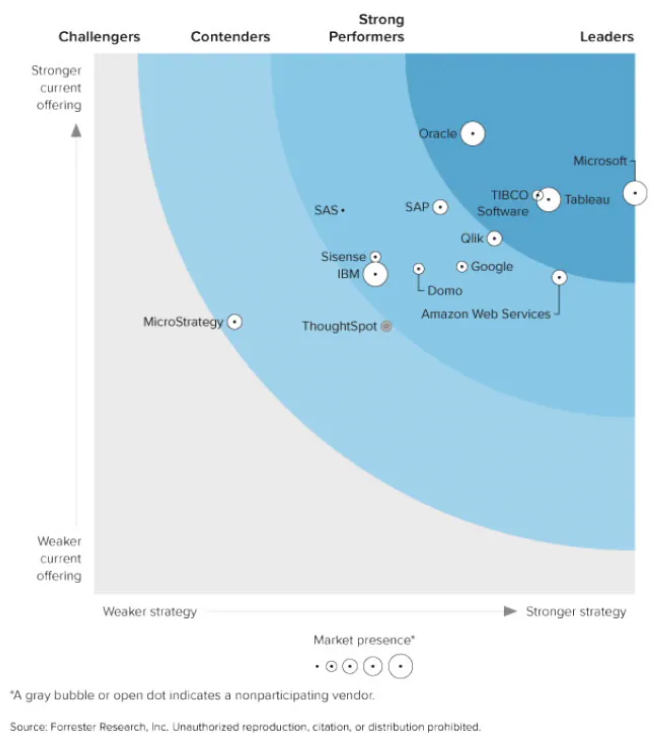 Ook eens  in het 'echt' zien hoe de tool precies werkt? Geen probleem. We plannen graag een live demo met je in. Klik op de knop hieronder om een afspraak te maken met onze sales-collega Wouter.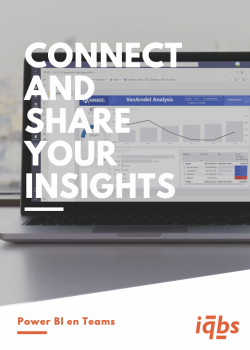 Power BI kan ook goed gecombineerd worden met Microsoft Teams. Beide tools zijn onderdeel van Microsoft 365. Dit heeft als groot voordeel dat ze efficiënt samen gebruikt kunnen worden. Zo geven jouw dashboards nog meer inzichten in jouw medewerkers. Wil je meer te weten komen over deze specifieke combinatie? Lees dan het whitepaper!