De SAP-gecertificeerde connector van Theobald maakt het voor ons mogelijk het iqbs Framework óók te integreren met SAP. Als Theobald partner en reseller implementeren we deze software als integraal onderdeel van ons framework. Je kan daarmee genieten van alle voordelen van ons framework, de technologie van Microsoft en Power BI, met de zekerheid van de SAP certificering.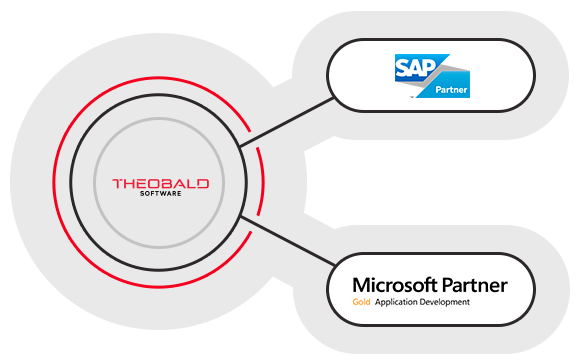 Werken met SAP betekent werken in een gestructureerde organisatie. Om je business te analyseren kun je werken met de SAP BI-oplossingen, maar bij een transfer naar Excel loop je dan tegen wat moeilijkheden aan. Onze ervaring leert dat het opbouwen van de sheets tijd kost, en waarschijnlijk mis je ook gegevens. Het SAP-rapport of -query toont namelijk niet de juiste velden. Wil je laagdrempelig aan de slag met jouw data uit SAP, waaruit je meer inzicht gaat halen? Dan hebben wij de oplossing voor je.
Met iqbs voor SAP haal je op een beheerde manier data uit SAP om het beschikbaar te stellen voor rapportages en dashboards – zelfs realtime! Theobald Xstract IS zorgt dat je toegang krijgt tot de complexe datastructuur. Onze consultants bepalen samen met jou hoe een dashboard het beste kan worden opgebouwd, waarna we zorgen dat de juiste data in een datawarehouse komt. Zo kun je rapportages en dashboards voeden vanuit ons framework. Zonder knippen en plakken; gewoon snel en betrouwbaar in Power BI of Excel.
Waarom wij kiezen voor Theobald:
Herken processen die aandacht nodig hebben, zie trends en doe voorspellingen
Onze praktijkervaring met een grote hoeveelheid applicaties en databases heeft ervoor gezorgd dat onze Business Intelligence een oplossing is voor vele (combinaties van) bronnen. We hebben al vele organisaties geholpen conclusies te leren trekken uit hun data in Infor LN (Baan) en SAP, en ook als je data uit verschillende systemen wilt combineren ben je bij ons aan het juiste adres. BI is de toekomst! Onderaan deze pagina vind je een aantal mogelijkheden van systemen waaruit we data kunnen halen.
Interactieve visuele analyses hebben het antwoord
al voordat je de vraag stelt
Hoe we zorgen dat je snel inzicht krijgt in al je data, kunnen we je natuurlijk het best laten zien. Met behulp van onze speciale en gecertificeerde connectoren kunnen we in topsnelheid data uit SAP en Infor LN structureren. Data uit andere systemen koppelen we middels een datawarehouse, waardoor de rapportages die je naderhand gebruikt je bronsystemen niet belasten. Bij alles wat wij doen, maken we gebruik van de stabiele en innovatieve middelen van Microsoft.