Een BI-oplossing is zowel on-premises als cloudgebaseerd mogelijk. Maar welke kosten gaan gepaard met deze mogelijkheden? De totale kosten van een BI-oplossing zijn afhankelijk van jouw data omvang, het aantal verversingsmomenten van de data en het aantal gebruikers.
Hoe worden kosten voor een BI-oplossing opgebouwd?
De kosten voor een on-premises oplossing en een cloudoplossing worden verschillend opgebouwd. Hieronder leggen we uit, uit welke kostenposten de twee oplossingen bestaan.
Voor een on-premisesomgeving zijn de kosten opgebouwd uit:
Een kapitaalinvestering in hardware
Een kapitaalinvestering in software (operating system, database software, applicatiesoftware)
Beheerkosten: systeembeheer, applicatiebeheer
Bij een cloudomgeving betaal je vooral voor:
Het gebruik van hardware en software
Gebruik van IaaS, PaaS en SaaS (Infrastructuur-, Platform- en Software as a Service)
Beheerkosten: systeembeheer en applicatiebeheer (in beperktere mate dan bij een on-premisesomgeving)
Een voorbeeldcase ter illustratie
Om je een goed beeld te geven van hoe de kosten worden opgebouwd en hoe wensen en andere factoren invloed hebben op het kostenplaatje, hebben we een voorbeeldcase voor je gemaakt. De voorbeeldcase geeft je een goed beeld van hoe een reële situatie zou kunnen zijn en welke afwegingen je moet maken en welke kosten daarbij gepaard gaan. Je ontvangt hem per mail na het invullen van het formulier hieronder.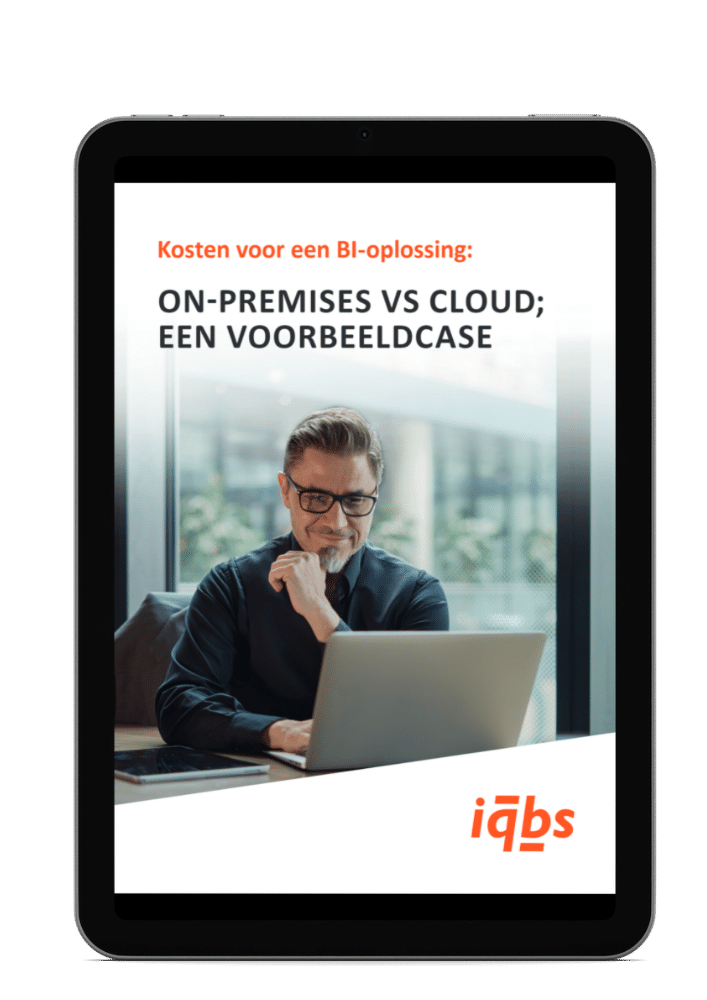 Mogelijkheden die de keuze tussen een on-premises- of cloudoplossing kunnen beïnvloeden
Als je kiest voor een cloudoplossing en de wensen voor dataverversing veranderen, dan zullen ook de kosten meebewegen. Neem voorziene en/of verwachte veranderingen in dataverversing altijd mee in je keuze voor een cloudoplossing.
Als jouw bedrijf een forse datagroei verwacht, waardoor het on-premisessysteem na een jaar te weinig capaciteit heeft, kan de cloudoplossing interessanter zijn om een tussentijdse, nieuwe investering in on-premises hard- en software te voorkomen. Bij een oplossing in Azure zijn er diverse manieren om grip te houden op de kosten. Meer daarover schreven we in onze blog "Grip houden op uitgaven in Azure". Je vindt hem via de knop hieronder. 
Wanneer je een keuze maakt voor een on-premisesoplossing of een cloudoplossing voor het BI-systeem, neem dan ook je verwachting van de benodigde capaciteit in de toekomt mee in je besluit. Wil je advies op maat? Plan dan een afspraak met ons in. We denken mee over de unieke samenstelling en kostenafweging voor jouw BI-omgeving.