Vanaf nu heeft de Power BI mobile app een nieuwe look voor alle gebruikers! In de testfase, een aantal maanden hiervoor, kon je er al voor kiezen om de nieuwe look te gebruiken en hierover mee te denken. Het is nu standaard uitgerold voor alle gebruikers. Dit betekent niet alleen dat je voortaan vanaf de startpagina jouw meest gebruikte én meest recent gebruikte dashboards snel kunt openen; er is meer. Hierbij vind je een kort overzicht van de nieuwe functies.
Schakelen tussen accounts
Via het Power BI account-menu is het voortaan mogelijk snel te schakelen tussen verschillende accounts. Eventuele gekoppelde accounts zijn hier al automatisch toegankelijk sinds december.
Dat je nu ook meldingen en updates over jouw data ontvangt, is helemaal nieuw in de app. Onder de tab 'activity' zie je een lijst van alle recente gebeurtenissen in jouw dashboards en data. De voordelen hiervan? Die zijn er zeker! Je kunt niet alleen zien waar geheel nieuwe content is toegevoegd aan de reports die je gebruikt; ook zie je voortaan wanneer de data in jouw dashboards voor het laatst is geüpdatet. Voortaan weet je hierdoor direct in welke dashboards nieuwe informatie beschikbaar is. Ook kun je in de activity-tab in één oogopslag zien over welke rapportages discussies gaande zijn.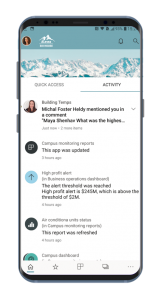 Dit maakt het dus makkelijker om een gesprek te volgen en erin te mengen zodra er een comment is achtergelaten bij één van jouw rapportages. Tot slot – volgens ons de meest belangrijke toevoeging – kun je meldingen ontvangen zodra jouw data gedrag vertoont waarover je informatie wilt ontvangen. Hiervoor voeg je zogenaamde 'data alerts' toe en laat je de rapportages voor je werken. Dé manier om grip te houden op je KPI's!
De feedback van de testgebruikers was erg positief! Daarom heeft Microsoft ervoor gekozen dit voor alle gebruikers uit te rollen. De app ziet er voortaan dus niet alleen weer wat mooier uit, het is ook weer makkelijker geworden in gebruik: je vindt gemakkelijk belangrijke content terug en het is eenvoudiger om door de verschillende rapportages in de app te navigeren.
Wij zijn enthousiast! Benieuwd naar meer of heb je vragen? Lees meer over Power BI, kom naar onze Power BI-inspiratiesessie of stuur ons gerust een bericht!