Power BI updates van het afgelopen half jaar
Iedere maand maakt Microsoft nieuwe updates bekend voor Power BI. In deze blog vatten wij de belangrijkste updates van dit half jaar voor je samen. Als je meer uitleg zoekt of wil ontdekken of één van de updates interessant is voor jouw bedrijf, neem dan contact met ons op! Wij helpen je graag verder.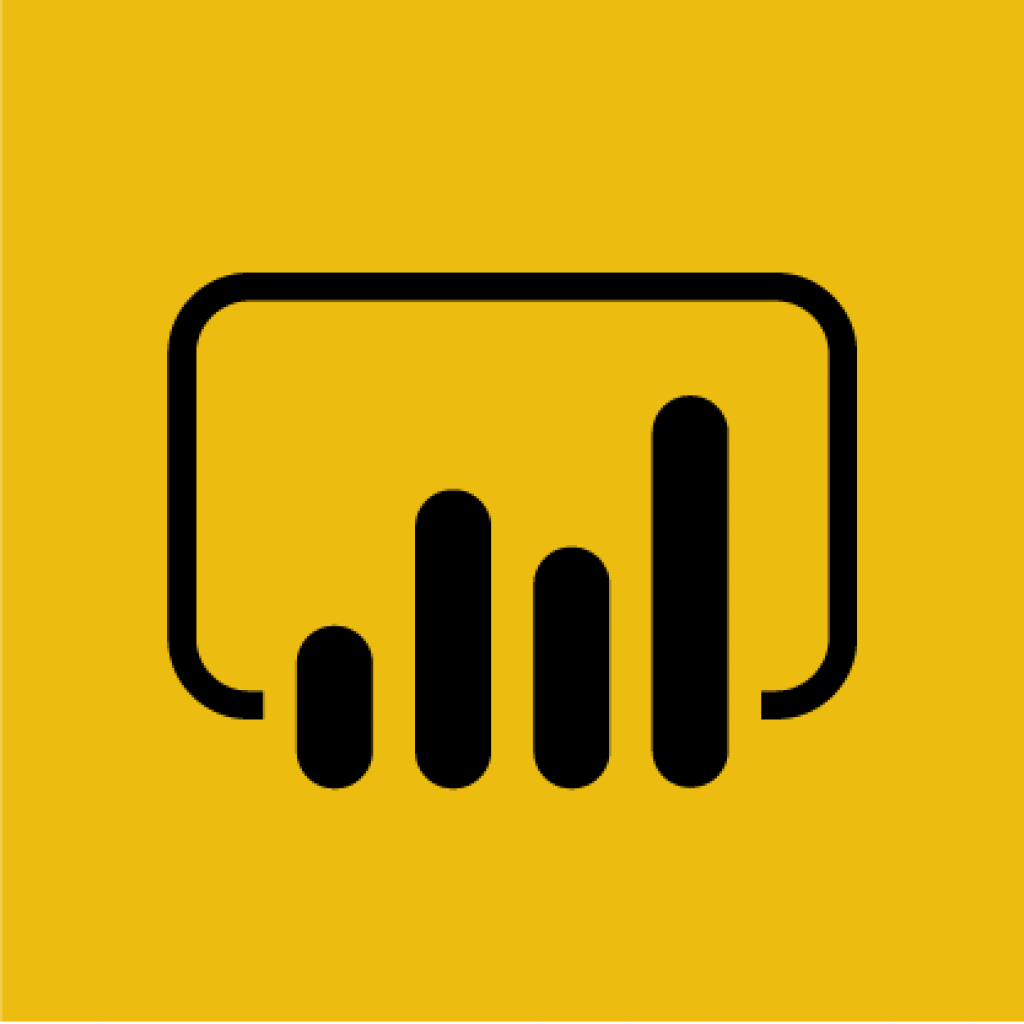 Power Automate gebruiken in Power BI
Met de nieuwe Power Automate-visual kunnen eindgebruikers een flow van Power Automate activeren.  Met behulp van Power Automate automatiseer je handelingen die je vanaf nu activeert vanuit je Power BI rapport.
Een bepaalde view of rapportage met één klik op de knop delen met een vaste groep collega's of klanten? Koppel een knop in het dashboard aan een Power Automate flow en het is geregeld. Ook als je de gebruiker wil toestaan de data in de rapportage te verversen, is dat met Power Automate nu in te regelen. Kortom: met Power Automate voor Power BI kan de eindgebruiker met één muisklik van inzichten tot actie overgaan. Als je meer informatie wilt over deze nieuwe update dan linken wij je graag door voor extra informatie.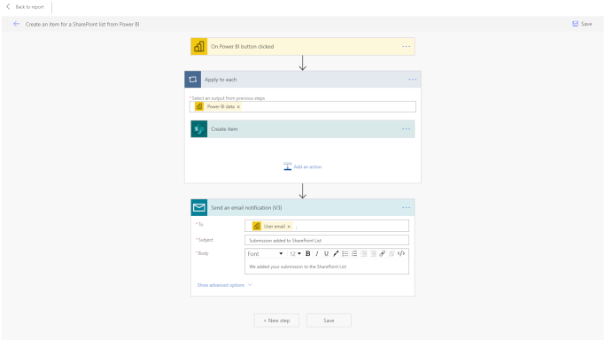 Met deze nieuwe functie kun je automatisch grafieken vermenigvuldigen. Je kan nu eenvoudig per categorie verschillende grafieken naast elkaar zien. Als je bijvoorbeeld de grafieken van verschillende landen wilt uitwerken hoef je geen grafiek meer te kopiëren en een filter van het desbetreffende land erop te zetten. Na één klik op de juiste knop dit doet Power BI vanaf nu eigenlijk automatisch. Dankzij deze update hoef je minder grafieken zelf aan te passen.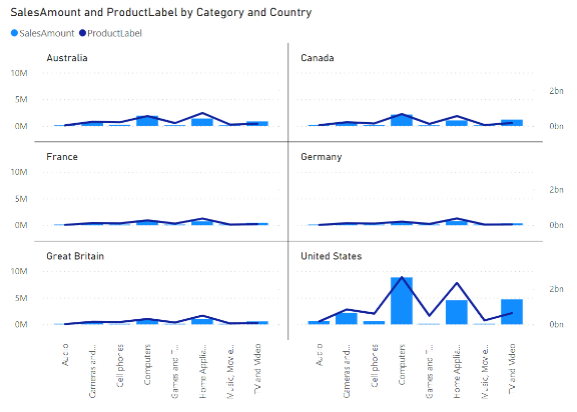 Shapes+ (nu meer vormen aanpasbaar)
De shapes zijn flink uitgebreid in Power BI. Vanaf nu heb je ruime keus in de vormen die jij wilt aanbrengen in jouw rapport. Waar je hiervoor nog afbeeldingen moest toevoegen als je benodigde shape er niet tussen stond, is het nu uitgebreid met een lange lijst waardoor er vast wel wat naar jouw wens in staat. Je kan de vormen nu ook meer aanpassen naar jouw wensen, bijvoorbeeld door een schaduw toe te voegen of de randen wat ronder maken.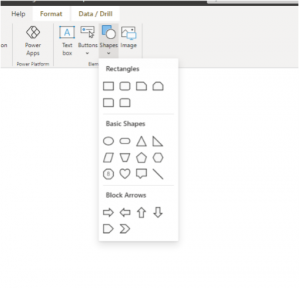 Invert axis (omdraaien van assen voor visualisaties)
In de nieuwe Power BI update is ook toegevoegd dat je de assen van jouw grafieken kunt veranderen van plek. Het hoeft nu niet meer een x- en een y-as van laag naar hoog maar hier kan je nu mee spelen. Je kan eigen invulling geven aan de grafieken. Dit is een handige toevoeging voor het visualiseren van jouw Power BI rapport, bijvoorbeeld als je wil schakelen van een opbrengsten- naar en kostengrafiek.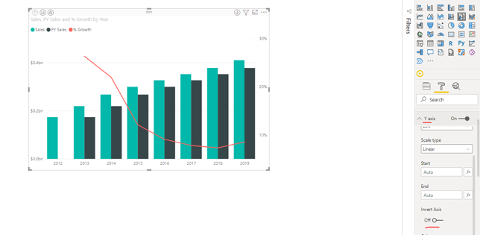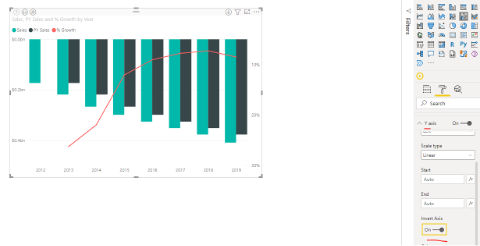 Direct Query for Power BI datasets
In deze nieuwe update is het mogelijk om als eindgebruiker een Excel bestand toe te voegen aan de Power BI dataset. Je hoeft dus als eindgebruiker niet eerst langs de Power BI-expert , maar voegt makkelijker zelf budgetten of andere data die je zelf beheert toe. Als eindgebruiker kan je een nieuwe dataset toevoegen. Zo kan je de budgetten zelf toevoegen indien deze nog niet in het rapport staan. Dit is een extra toevoeging aan het bestaande Power BI rapport. Klik hier als je extra informatie wilt over hoe je een Excel bestand toevoegt aan een bestaande dataset.
Copy links toegevoegd aan delen van PBI rapporten / mogelijkheden sensitivity labels
Je kan vanaf nu je Power BI rapport ook delen met anderen in de vorm van een link. Hierdoor kan je jouw dashboards of rapporten nog makkelijker versturen. Degene die de link ontvangt krijgt automatisch toegang tot het Power BI rapport, omdat deze persoon in het bezit is van de link. Veilig? Ja hoor: je kunt aangeven of het Power BI rapport gedeeld mag worden via een link. Ook kun je aangeven naar wie de link verstuurd mag worden en naar wie niet. Zo kan je aangeven dat de link alleen gedeeld mag worden met mensen binnen de organisatie. Dit is om te voorkomen dat iedereen zomaar in het rapport kan.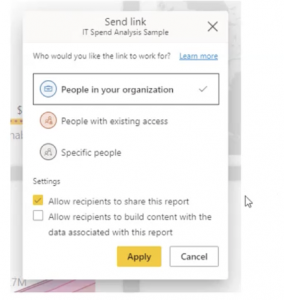 Microsoft Charticulator visual (zelf visuals maken en in PBI laden)
In deze nieuwe update heeft Microsoft toegevoegd dat je zelf visuals kan bouwen. Je bent dus niet meer gebonden aan de beschikbare visuals van Microsoft maar je kan je eigen creativiteit hierop loslaten. Varieer met kleuren, vormen en figuren om jouw Power BI dashboard nóg meer te personaliseren.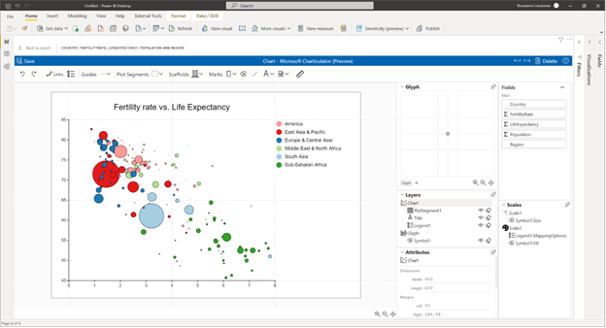 Modern visual tooltip (nu makkelijker om te filteren en acties te ondernemen)
Er is vanaf nu meer te regelen met één muisklik. Je kunt in- en uitzoomen op een gegevenspunt zonder dat je het menu of de koptekst voor de visual moet gebruiken. Wanneer je bijvoorbeeld je muis beweegt over een staafdiagram, kun je nu met één muisklink inzoomen op het benodigde gegevenspunt. Dat is dus veel gemakkelijker en sneller geworden dan voorheen.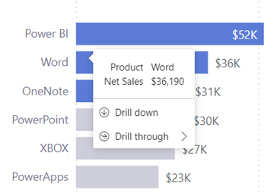 Er is een nieuwe mogelijkheid in het laten zien van jouw grafieken. Je kan vanaf nu aan het eind van jouw grafiek de naam van de lijn zetten. Dit maakt in een keer duidelijk welke lijn wat aangeeft. Hierdoor is de grafiek overzichtelijker en makkelijker af te lezen.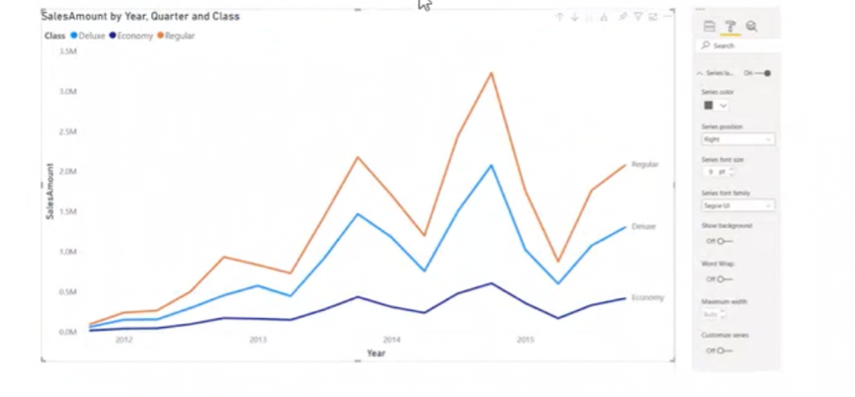 Wil je meer weten over de mogelijkheden van Power BI?
Neem dan snel een kijkje op onze Power BI pagina
Wil je meer weten over de mogelijkheden van iqbs BI voor Infor LN?
Maak dan een afspraak of vraag een gratis demo aan.