Dankzij de digitale transformatie, de ontwikkelingen op gebied van BI en data-analytics zijn er voor bedrijven veel nieuwe gegevens bijgekomen die gebruikt kunnen worden om bedrijfsprocessen te sturen. Power BI, Qlik Sense en Tableau zijn voorbeelden van BI-oplossingen die hiervoor gebruikt worden. Volgens analistenbureau Gartner is Microsoft BI duidelijk al jaren marktleider, maar wat zijn de belangrijkste verschillen?
Ieder jaar doet Gartner onderzoek naar de beste Analytics & BI platforms. Deze komen dan in een overzichtelijk quadrant te staan. Zij delen de BI-tools in op basis van een aantal kritische factoren zoals gebruikerservaring, infrastructuur, datamanagement, analyse en algemene mogelijkheden.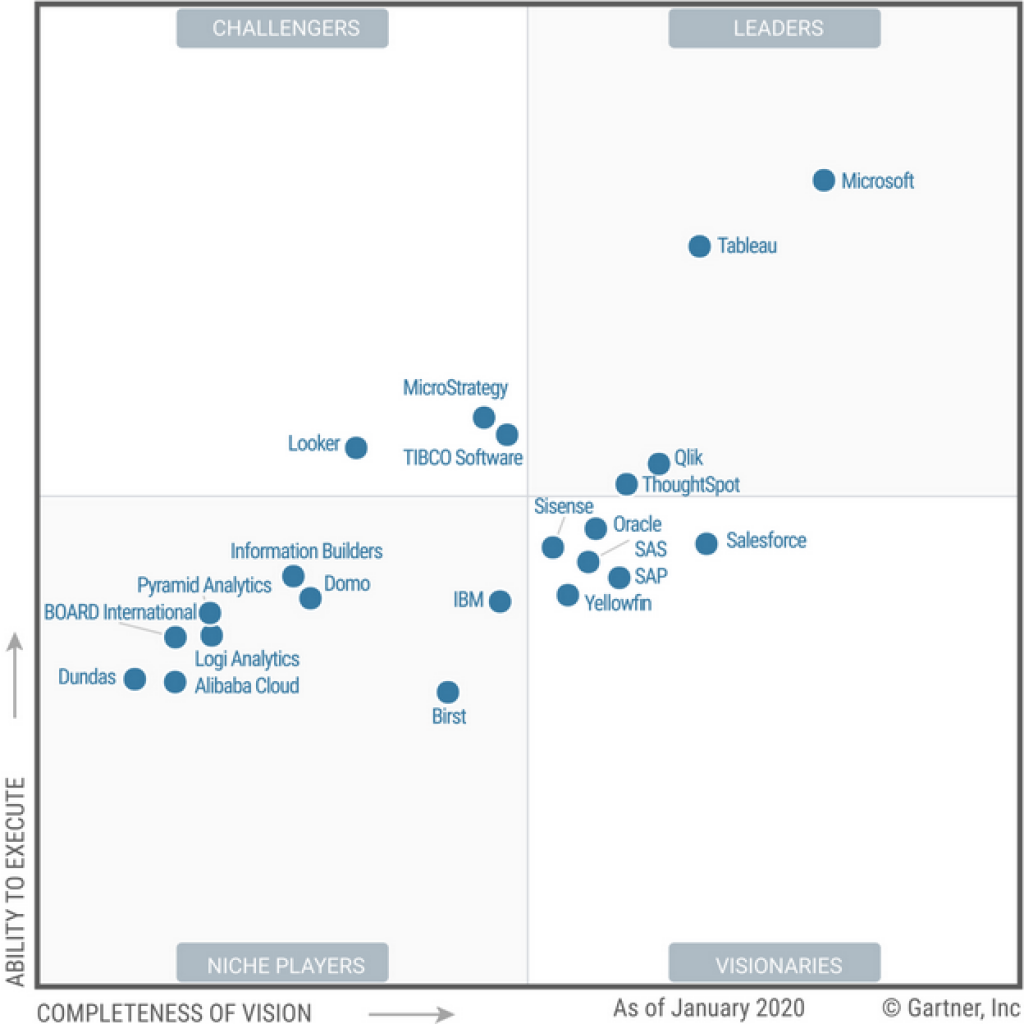 Met Power BI desktop kan je kosteloos beginnen met Power BI en het maken van je eerste dashboard. Als je deze vervolgens wilt delen met teamleden of andere collega's stap je over op Pro licenties. Deze zijn nog geen €8,50 per gebruiker per maand en zeker Excel-kenners kunnen dit eenvoudig gebruiken. Daarnaast is Power BI een product uit de Microsoft familie, waardoor je ziet dat er veel integraties met andere Microsoft-oplossingen zoals Office 365 en SharePoint standaard zijn. Het gebruik van Power BI maakt duidelijk dat de tool een BI-first applicatie is, maar dat het ook goed dient als standalone datavisualisatietool. Power BI is aan te sluiten op verschillende databronnen en de tool biedt een totaaloplossing voor organisaties van klein tot groot. Met Power BI Embedded kan je zelfs je dashboards integreren in een eigen applicatie.
Werken met Power BI gaat vooral over data. De werkomgeving van Power BI is overzichtelijk ingericht met een werkblad, beschikbare data en een omgeving voor het bouwen van het datamodel (de relaties tussen databronnen). Werken vanuit een BI standaard betekent dat je als gebruiker eerst de data op orde brengt (extract, transform, load), voordat je met de visualisaties (in je rapport of dashboard) aan de slag gaat. Het is ook mogelijk om andersom te werken, maar dan merk je al snel dat Power BI daar niet primair op ingericht is.
Tableau heeft ook verschillende versies, zoals: Desktop, Server en Online (cloud). Qua standalone datavisualisatie blinken de producten echt uit. Voor het voorbereiden en analyseren van je data is coderen niet nodig. Voor complexere datamodellen is Tableau echter minder geschikt; geavanceerde integraties met andere systemen zijn ook niet de sterkste kant van het BI platform. Net als bij Power BI zijn de dashboards interactief en intuïtief. Bijna iedere databron is aan te sluiten op de software. Je betaalt $35 per gebruiker per maand.
Recentelijk heeft Tableau een nieuw datamodel uitgerold, dat de concurrentie aan moet gaan met onder andere Power BI. Vorig jaar zomer heeft Salesforce Tableau overgenomen en de verwachting is dat er flink geïnvesteerd zal worden.
De BI software van Qlik bestaat uit twee groepen: QlikView en Qlik Sense. Het makkelijke van Qlik is dat je hun producten los kunt gebruiken, maar ook kunt integreren in andere applicaties. Door de in-memory technologie die Qlik biedt kun je interactieve applicaties bouwen en de data visueel aantrekkelijker maken. Je kiest, net als in Power BI, variabelen uit een vooraf opgestelde lijst, waarbij je uit verschillende datavisualisaties kunt kiezen.
Qlik heeft dus veel voordelen die vergelijkbaar zijn met Power BI en Tableau. Maar het inladen van data is wel een stuk moeilijker. Je moet veel kennis hebben om scripts in te laden voordat de data beschikbaar wordt in Qlik. Daarnaast zijn de investering en maandelijkse licentiekosten een stuk hoger (vanaf $30 per gebruiker) dan van Power BI, wel weer iets lager dan van Tableau.
Waarom kiest iqbs voor Microsoft BI?
Uit het onderzoek van Gartner blijkt dat de BI software van Microsoft jaar op jaar marktleider is als het gaat om visie en executievermogen. De snelheid waarmee Microsoft innovaties naar de markt brengt, in zowel Power BI als de SQL stack, is ongeëvenaard. Tableau volgt op gepaste afstand; Qlik zien we zelfs een stukje terugzakken.
Microsoft heeft de missie om mensen en organisaties in hun kracht te zetten om uiteindelijk meer te bereiken. Microsoft loopt voorop in de markt. Wij sluiten hier graag bij aan omdat je met BI in je organisatie het verschil kunt maken. De keuze voor een BI omgeving moet voor ons én voor onze klanten toekomstbestendig zijn en wij kiezen daarom voor Microsoft, om ook naar de toekomst toe de beste technologie en oplossingen tot onze beschikking te hebben.
Wil je meer weten over de mogelijkheden van Microsoft BI?
Maak dan een afspraak of vraag een gratis demo aan.