Aan de slag met handige nieuwe Power BI functies
Als leider in Analytics & BI solutions loopt Microsoft voor op andere BI-oplossingen. Iedere maand zorgt Microsoft met een nieuwe update van de Power BI service dat ze hun klanten blijven helpen met innovatieve oplossingen. Onze experts houden de updates nauwlettend in de gaten en leggen uit welke nieuwe functies je binnenkort kunt doorvoeren, zodat jouw dashboards en rapporten nog slimmer worden.
Power BI premium per user
Met Power BI Premium per user kunnen organisaties gebruik maken van premium functionaliteiten voor een specifieke groep gebruikers. Vanaf 2 april is Power BI Premium per user algemeen beschikbaar en kan vanaf nu dus worden gebruikt als alternatief van de Power BI Premium licentie. Het omvat alle Power BI pro functionaliteit met daarnaast de premium onderdelen zoals 'Deployment pipelines', 'Paginated reports' en het gebruik van AI visualisaties. Daarnaast is de limiet van je dataset vergroot tot 10 GB (in plaats van 1 GB) en kan je 48 keer per dag de dataset vernieuwen (in plaats van 8 keer). Vanaf nu kan je dus de afweging maken of de premium functies (en dus licentie) nodig is voor de hele organisatie, of alleen voor een kleinere groep gebruikers. Dit kan voor een flinke besparing zorgen.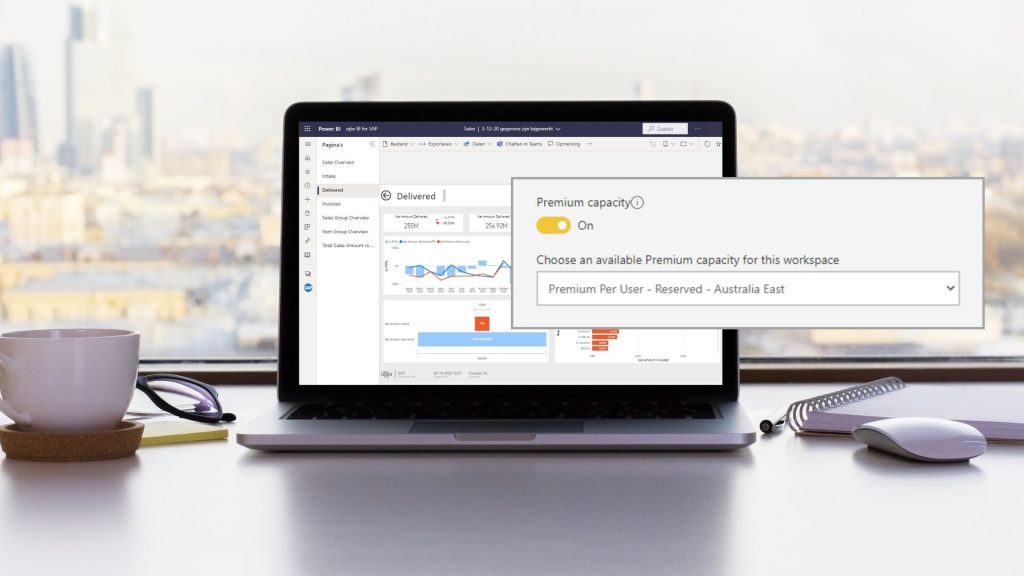 Object Level Security: specifieker beveiligen
Bedrijven maken al veel gebruik van row level security, ofwel RLS. Maar met object level security (OLS) kunnen de makers van een Power BI dataset ook specifieke tabellen of kolommen beveiligen voor de gebruikers van hun dataset. De gebruiker ziet zelf niet dat er een tabel of kolom mist als hij of zij met de dataset connect. Indien de kolommen in een visualisatie gebruikt worden krijgt de gebruiker een foutmelding dat het een veld mist in de betreffende visualisatie en is deze niet zichtbaar. Met OLS kun je niet alleen de toegang tot gegevens beperken, maar je kunt ook toegang tot gevoelige veldnamen of tabellen uitschakelen. Hiermee voorkom je dat lezers gevoelige informatie ontdekken. Denk hierbij aan financiële gegevens, klantgegevens of informatie over medewerkers. De beveiliging wordt geconfigureerd met de externe tool Tabular Editor en vervolgens toegepast in de Power BI webservice.
Beveiliging op rijniveau (RLS) was al eerder mogelijk. RLS is een functie waarmee je gegevens kunt beveiligen door rollen te creëren met vooraf gedefinieerde filters. Met deze DAX-filters wordt de toegang tot rijgegevens beperkt voor de rollen die niet over de ingestelde machtigingen beschikken. Gebruikers kunnen dan alleen de gegevens zien waarvoor zij gemachtigd zijn. Denk hierbij aan de data van specifieke regio's, bedrijven of medewerkers. Naast beveiliging zorgt dit ook voor gebruiksgemak, omdat je alleen gegevens ziet die voor jou relevant zijn.
Onze experts geven ook trainingen
Wil je meer uit jouw Power BI dashboards halen?
Bekijk ons aanbod in Power BI trainingen en meld je aan!
Meer Power BI trainingen
Vernieuwde zoekbalk in het Power BI Desktop lint
Het lint in Power BI Desktop is flink verbeterd met de invoering van een nieuwe zoekbalk. De zoekbalk is nu op dezelfde manier zichtbaar als in bijvoorbeeld Word, Excel en de andere Office 365 producten. Als je op de zoekbalk klikt zonder iets in te voeren, stelt Power BI zelf enkele acties voor. Als je begint met typen worden de voorstellen aangepast op jouw zoekresultaat.
Als je in Power BI een visual of veld selecteert verschijnen er speciale tabbladen in het lint met knoppen die van toepassing zijn op jouw selectie. Deze worden ook opgenomen in de zoekresultaten van het lint. Zo kun je nog slimmer werken, handig toch?

Licht Power BI rapporten uit voor andere gebruikers
Vanaf nu kun je in je Power BI rapportage instellen of je het rapport wilt uitlichten in de startpagina van collega's. Je kunt Power BI dashboards, rapporten en apps zo instellen dat ze worden weergeven in het 'uitgelichte' gedeelte van hun persoonlijke startpagina. De personen waarvoor je dit instelt moeten wel lid zijn van dezelfde werkruimte waarin het Power BI rapport zit. Je kunt zelf beslissen welke Power BI content als eerst wordt weergegeven. Daarbij kun je korte beschrijvingen en afbeeldingen toevoegen, zodat de eindgebruikers van het rapport snel vinden wat zij nodig hebben. Dit doe je als beheerder door bij het rapport in de werkruimte naar instellingen te gaan en de optie 'feature on home' aan te vinken.
Om de Power BI dashboards en rapporten te kunnen gebruiken moet je wel een Power BI Pro licentie hebben en aangesloten zijn bij de werkruimte als beheerder, lid of editor. De Power BI admin kan deze mogelijkheid ook uitschakelen en deze optie aan specifieke personen toewijzen. Indien een rapport is uitgelicht zullen alle leden van de werkruimte dit rapport uitgelicht zien staan.
Zebra BI update 4.5 voor tabellen en grafieken
De visualisaties van Zebra BI zorgen ervoor dat jouw financiële rapportages veel duidelijker zijn. Met de nieuwste update zorgen ze voor een compleet nieuwe werkwijze om je Power BI rapporten te verduidelijken. Met een nieuwe formule editor en dynamisch commentaar maak je jouw rapporten nog beter leesbaar voor de eindgebruikers.
Met de nieuwe update van Zebra BI hoef je geen aanpassingen in het datamodel meer te maken. Als je een nieuw element aan een tabel wil toevoegen dat nog niet in je dataset staat, kun je dit nu eenvoudig berekenen met een custom formule in de visual!
Comments kunnen jouw Power BI-rapporten maken of breken. Het is daarmee cruciaal om de belangrijkste boodschap van een visual op een duidelijke manier over te brengen. Met de uitgelichte oplossing van Zebra BI kun je dynamische opmerkingen weergeven in jouw Power BI dashboards en rapporten.
Met de visualisaties van Zebra BI verrijk je jouw financiële Power BI rapportages. Neem contact op met Wouter voor de mogelijkheden.