De laatste Power BI updates
Iedere maand wordt Power BI geüpdatet, waarbij grote of kleine verbeteringen worden doorgevoerd aan het Business Intelligence platform. Zo zijn er veel nieuwe functies maar ook een hoop nieuwe rapportagemogelijkheden. We zetten de belangrijkste nieuwe functionaliteiten van het laatste kwartaal voor je op een rijtje.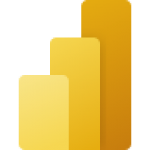 Uitbreiding van de Q&A functie
Met de Q&A functie binnen Power BI kun je middels vragen de gegevens in je dashboards verkennen en antwoorden krijgen in de vorm van heldere diagrammen en grafieken. Stel een vraag over je gegevens en de Q&A functie gaat direct voor je aan de slag om een zo goed mogelijk antwoord te produceren. Dit doet hij door de beste visualisatie te kiezen voor de gegevens waar je naar vraagt. De laatste maanden zijn de volgende handige updates doorgevoerd:
Q&A kan nu rekenkundige bewerkingen ondersteunen: optellen, aftrekken, delen door en vermenigvuldiging. Deze nieuwe functie is handig als je vragen wilt stellen waarvoor een wiskundige uitdrukking nodig is.
Uitgebreide ondersteuning voor het exporteren van gegevens naar Q&A visuals. Je vindt deze optie in het contextmenu van de visuele koptekst, net als bij een standaard visual.
Q&A ondersteunt nu ook de 'gedeeltelijke overeenkomst voor gegevenswaarden'. Met deze nieuwe update zal Power BI nu intelligente overeenkomsten maken, door in de gegevens te zoeken naar meer dan alleen exacte overeenkomsten.
Om Power BI met ieder device goed te kunnen gebruiken worden ook de mobiele functies iedere maand verbeterd. Het is vanaf nu makkelijker om je Power BI rapportages via je favoriete mobiele apps te delen in iOS en Android. Daarnaast is het ook mogelijk om te 'knijpen en zoomen' in alle rapportweergaven. Deze functie werkt naast telefoons ook op alle iOS en Android tablets. Voor Windows telefoons is het nu mogelijk om automatisch een diavoorstelling af te spelen van je rapportages.
Verbeterde navigatiestructuur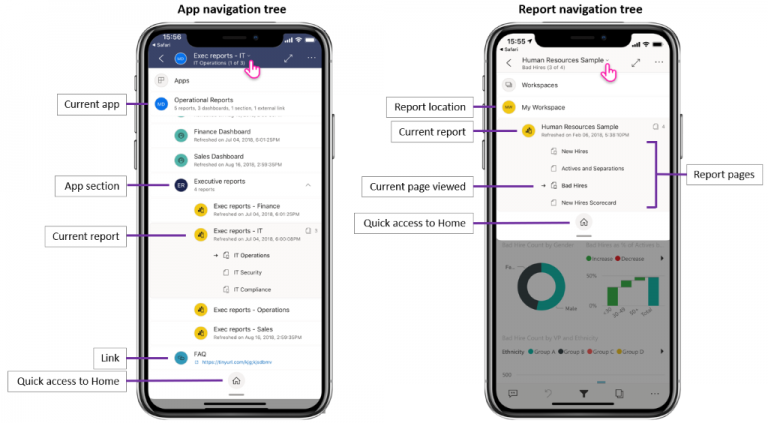 De navigatiestructuur van Power BI is op mobiele devices sterk verbeterd. Hierboven zie je welke stukjes zijn aangepast zodat apps en rapportages makkelijker van elkaar te onderscheiden zijn. Zo kun je sneller van dashboard naar rapportage switchen.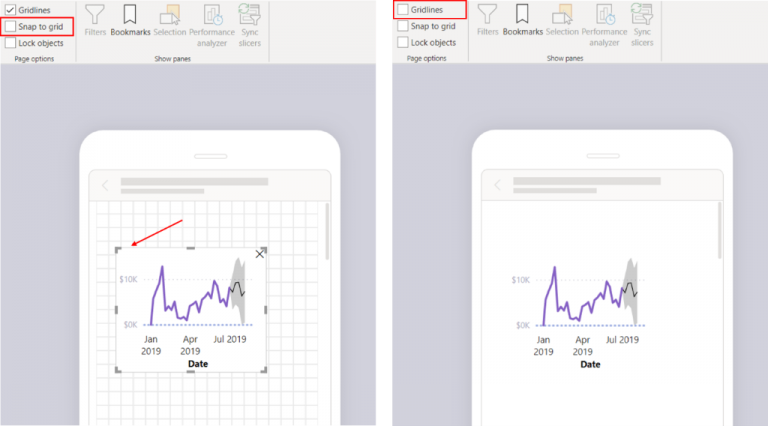 Ook nieuw in de Power BI app is het verbergen van de 'rasterlijnen' in je Power BI canvas. Zo kun je direct zien hoe jouw visualisaties eruit zien als je jouw rapportage via een mobiel device deelt. Je kunt de beperking 'uitlijnen op raster' verwijderen bij het ontwerpen van de geoptimaliseerde lay-out. Je zorgt er met deze nieuwe functie voor dat je een pixel-perfect rapport kunt maken.
Nieuwe rapportagemogelijkheden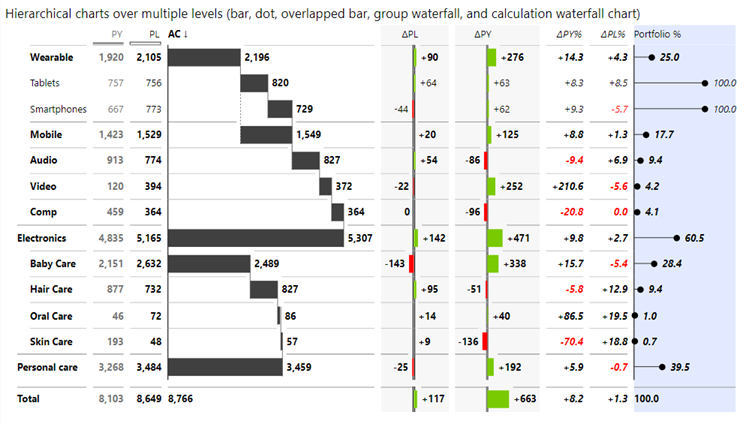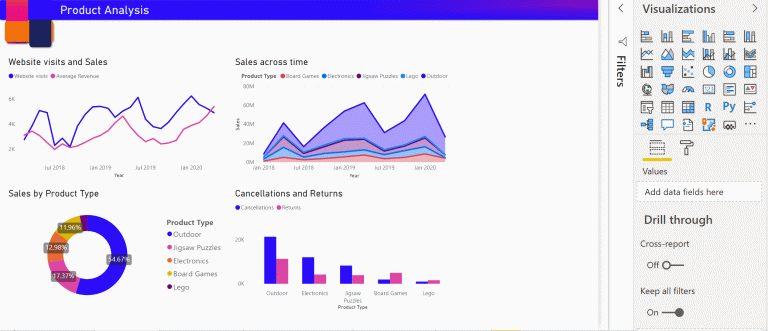 Ook de rapportages kun je een stuk aantrekkelijker maken met de nieuwe updates binnen Power BI. Zo is er sinds kort een Zoom Slider, waarmee je makkelijk kunt schuiven aan je grafieken. Zo kun je zonder moeite een kleiner bereik van de gegevens van je gemaakte visualisatie bekijken. De zoom slider zal geen aanpassingen maken in je tabel. Je kunt het eenvoudig gebruiken door de afmeting van de slider te verschuiven.
Versie 4.4 van Zebra BI is met de laatste Power BI updates ook klaar voor gebruik. Er zijn bijvoorbeeld hiërarchische grafieken, aangepaste lettertypes, verbeterde 'Top N+ others' ervaringen en nieuwe design opties toegevoegd. Zo worden jouw dashboards nog interactiever en beter te begrijpen.
Met de slimme visualisaties van onze partner Zebra BI was het al mogelijk, maar ook in de reguliere versie van Power BI kun je nu aan de slag met Smart Narrative, ofwel slimme verhalen. Vaak gebruiken Power BI gebruikers nog PowerPoint, tekstvakken, interactieve headers of afbeeldingen om extra context aan data toe te voegen. Deze opties missen alleen net die extra mogelijkheid om rapportages interactief en slim te maken. Met de nieuwe Smart Narrative visualisatie help je je dashboards en rapporten samen te vatten door (aanpasbare) kant-en-klare inzichten te bieden. Hiermee kun je als Power BI gebruiker verhalen aan je rapportage toevoegen om belangrijke inzichten aan te pakken, trends te signaleren en de toon te bewerken voor een specifieke doelgroep. Met deze slimme verhalen kunnen de eindgebruikers van jouw rapportage de gegevens beter begrijpen en sneller tot inzichten en conclusies komen.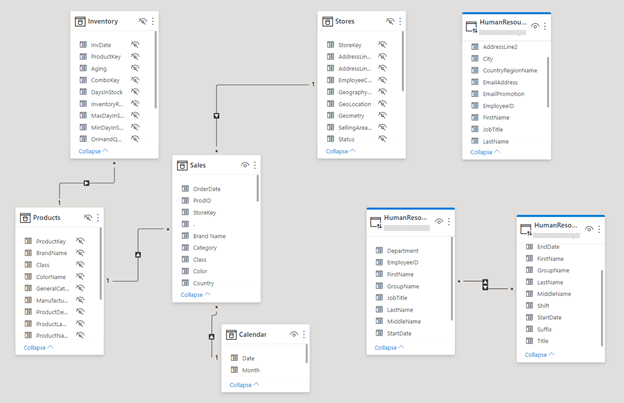 De datastructuur wordt met de vernieuwde modelweergave net iets anders opgezet. Je kunt de modelweergave in Power BI Desktop gebruiken om complexe gegevenssets met veel tabellen weer te geven en deze te organiseren. Met de vernieuwde update heeft deze datatstructuur een nieuwe look gekregen. Je kunt deze aanzetten door in de modelweergave op 'nu upgraden' te klikken.
Een nieuwe functie is dat de kopteksten nu in kleur weergegeven kunnen worden waardoor je in één oogopslag kunt zien welke tabellen uit dezelfde databron afkomstig zijn. De tabellen die nog in importmodus staan zullen geen kleur bevatten. Daarnaast zijn er prestatieverbeteringen doorgevoerd in de modelweergave. Met hele grote modellen kun je nu bijvoorbeeld beslissen met welke lay-outs je wil werken zodat je toch al je tabellen kunt inzien.
"Een belangrijke noot voor de nieuwe modelweergave is wel dat het nog niet handig samenwerkt met oudere versies van Power BI. Kijk daarom uit met het openen van nieuwe en oudere versies, dit kan je rapportage namelijk kapot maken."
Ook de 'implementatiepijplijnen' zijn vanaf september voor iedereen beschikbaar. Met deze deployment pipelines kunnen Power BI gebruikers de efficiëntie en nauwkeurigheid van Power BI publicaties verbeteren door deze via ontwikkel-, test- en productieomgevingen te verplaatsen. Deze versie bevat ondersteuning voor incrementele vernieuwing en verbeterde gebruikerservaringen met onder andere betere navigatie en workspace tags waardoor uiteindelijk het samenwerken ook eenvoudiger en transparanter wordt.
Natuurlijk heeft Microsoft nog meer updates doorgevoerd in Power BI. Mocht je vragen hebben zijn onze consultants beschikbaar om je hierbij te helpen.
Haal meer uit Power BI met een online training. Zo kun je jouw dashboards optimaal inrichten met de juiste tips & tricks.