Gartner: Microsoft BI opnieuw leidend in Magic Quadrant 2021 voor Analytics & BI platforms
iqbs is al meer dan 20 jaar dé kennispartij als het gaat om Microsoft BI. Onze eigen BI oplossingen voor onder andere SAP en Infor LN, zijn 100% ontwikkeld op basis van de Microsoft BI technologie. Daarom zijn we blij te vermelden dat Microsoft opnieuw wordt erkend als leider in het Gartner Magic Quadrant onderzoek voor 'Analytics & Business Intelligence platforms'. Als iqbs klant ben je voorzien van de meest vooruitstrevende BI technologie.
Microsoft is voor de veertiende keer op rij verkozen als leider in het Magic Quadrant voor Analytics & Business Intelligence platforms. Onafhankelijk onderzoeksbureau Gartner publiceert jaarlijks een onderzoek naar de verschillende BI-oplossingen op de markt. Hierin wordt gekeken welke Business Intelligence oplossingen het beste werken en het meest toekomstbestendig zijn.

In het Magic Quadrant voor Analytics en Business Intelligence platforms wordt gekeken naar de compleetheid van de toekomstvisie van BI-producten en het executievermogen; hoe snel wordt deze visie omgezet in concrete updates en nieuwe producten? Het onderzoek wordt onder andere gebaseerd op de mening van Gartner's analisten, klantperceptie, peer insights, enquêtes, video demonstraties en externe data via het internet (zoals vacatures en video's).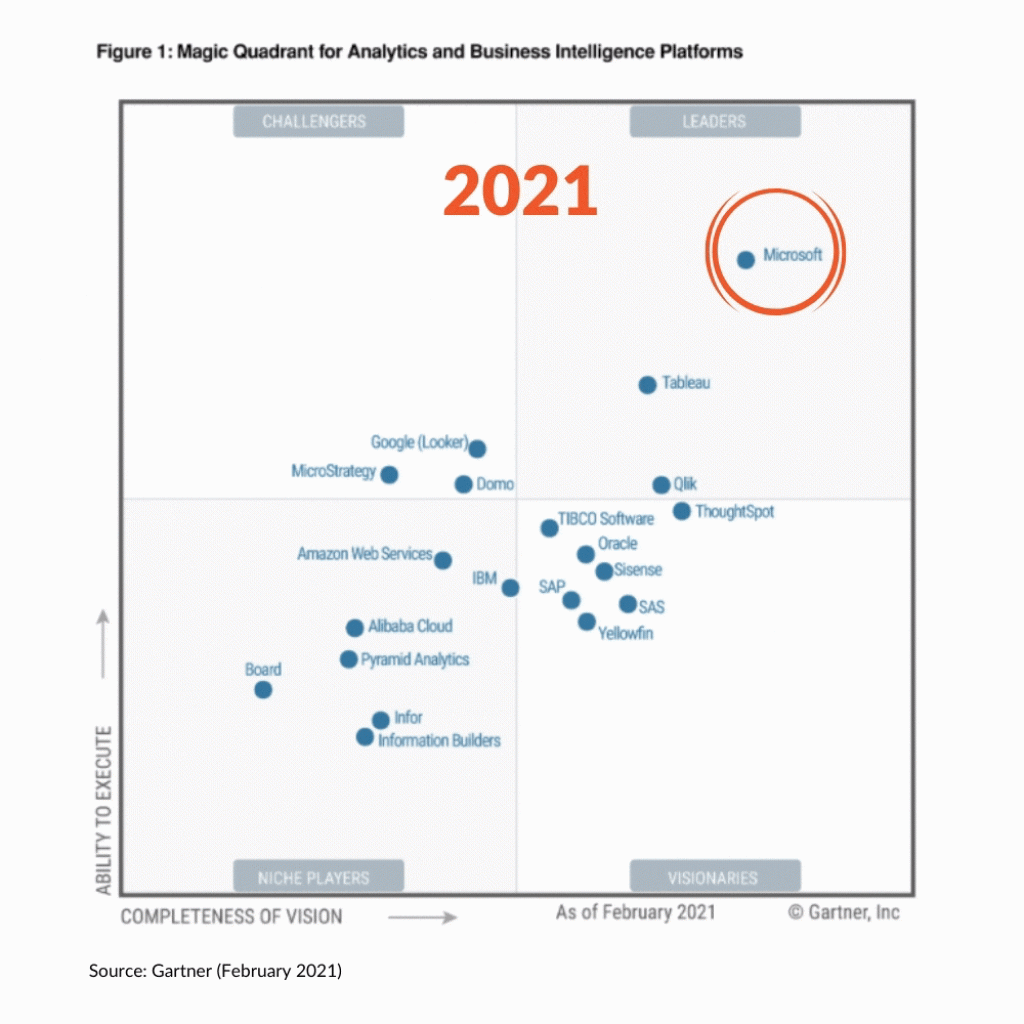 In het jaarlijkse onderzoek is te zien dat Microsoft Business Intelligence qua visie en executievermogen verder uitloopt op haar concurrentie. Deze voorsprong wordt ieder jaar groter. Microsoft BI is al een aantal jaar leidend door de grote verscheidenheid aan BI technologieën. Ze hebben een zeer uitgebreide en visionaire roadmap en een enorme achterban door onder meer de Office 365 productlijn. Microsoft biedt bijvoorbeeld in Power BI interactieve dashboards, visueel gebaseerde gegevensdetectie, gegevensvoorbereiding en verbeterde analyses. Maar hoe komt het dat ze zover uitlopen op andere BI oplossingen en dat Microsoft, anders dan de concurrenten, de innovaties wel kan omzetten in concrete productverbetering?
De voordelen van Microsoft BI
In het onderzoek wordt vooral over Power BI gesproken, wat een belangrijk onderdeel is van de Microsoft Business Intelligence stack, ook als het gaat om naamsbekendheid, maar er is veel meer. Denk bijvoorbeeld aan SQL Analysis Services, Azure Synapse Analytics, Databricks of Data Factory. Met Power BI visualiseer je de analyses op een prachtige manier en deel je de analyses verder met je team en organisatie. Power BI integreert helemaal met het Office 365-pakket. Hierdoor is het nog eenvoudiger om rapporten te delen. Doordat Power BI rapporten nu ook via Microsoft Teams gedeeld worden, groeit het bereik van Power BI verder.
De prijs in relatie tot de mogelijkheden en kracht van Power BI wordt als opvallend aangemerkt. De relatief lage prijs van Power BI betekent niet dat er wordt ingeleverd op kwaliteit of functionaliteit. Sterker nog: de prijsstelling van Power BI lijkt ervoor te zorgen dat de prijs van Analytics en Business Intelligence tools flink is gedaald. Er zijn talloze vernieuwende technologieën beschikbaar in Power BI, denk hierbij aan geautomatiseerde Machine Learning mogelijkheden, AI-aangedreven services en alle mogelijkheden door de naadloze integratie met Microsoft Azure.
Vorig jaar werd al meegenomen dat Microsoft blijft investeren in nieuwe en innovatieve BI-mogelijkheden. Zo zijn er ruim 80.000 klanten die al AI-services gebruiken in hun Power BI implementaties. Daarnaast investeert Microsoft ook in Machine Learning. In Azure Synapse wordt ML-gestuurde optimalisatie al toegepast om queryprestaties automatisch af te stemmen.
Verbeterpunten voor Microsoft BI
Gelukkig blijkt uit het onderzoek dat er nog altijd ruimte is voor verbetering. Het onderzoek stipt aan organisaties niet de mogelijkheid hebben een dedicated Power BI omgeving in de cloud af te nemen. De Power BI Service, waar rapporten worden gepubliceerd en gedeeld draait altijd in Azure. Het voordeel voor de Azure gebruikers is wel dat ze kunnen profiteren van het wereldwijde netwerk van Microsoft datacenters.

Als een organisatie een eigen Power BI omgeving wil, dan kan dit alleen met de on-premise versie; Power BI Report Server. Er zijn dan wel aantal functionele gaps om rekening mee te houden, ten opzichte van de Power BI Service op Azure. De Power BI Report Server heeft minder functionaliteiten dan de Power BI cloudversie. Hierin missen bijvoorbeeld mogelijkheden van Q&A in de originele taal, quick insights en alarmeringen.

Het beheren van Power BI-omgevingen kan een ingewikkeld proces worden. Dit komt omdat het publiceren van rapportages tot een administratieve overload kan leiden. Er is een koppeling tussen gepubliceerde apps en workspaces, die samen tot een situatie met honderden workspaces kunnen leiden. Een veel gestelde vraag bij onze iqbs collega's is dan ook 'hoe je het selfservicegebruik van Power BI kunt inregelen'. Wij hebben hier in de afgelopen jaren verschillende best practices ontwikkeld en helpen hier graag bij. We volgen nauwlettend de ontwikkelingen van Microsoft in de beheerdersmogelijkheden. Er worden namelijk op korte termijn mogelijkheden toegevoegd, waardoor Power BI beheerders de workspaces van een organisatie beter kunnen beheren en organiseren.
iqbs is Microsoft partner
Het iqbs team is ook dit jaar weer gecertificeerd als Microsoft Partner. We zijn gecertificeerd als Gold en Silver Partner, onder meer de Gold Data Analytics. Hierdoor weet je zeker dat we jou de beste service kunnen leveren.
Microsoft implementeert hun software niet zelf bij klanten, maar dit wordt compleet verzorgd door hun grote partnernetwerk. Als gecertificeerde aanbieder laat je zien dat je specialist bent én blijft in Microsoft solutions. iqbs is Microsoft Gold en Silver Partner, waarbij wij de verkoop en implementatie van verschillende BI oplossingen uit de Microsoft familie verzorgen. We hebben daarvoor eigen oplossingen ontwikkeld, het zogeheten iqbs Framework. Hiermee implementeren we op een gestandaardiseerde wijze een datawarehouse, inclusief Powerpacks (Power BI rapporten set) voor Infor LN, SAP en Odoo.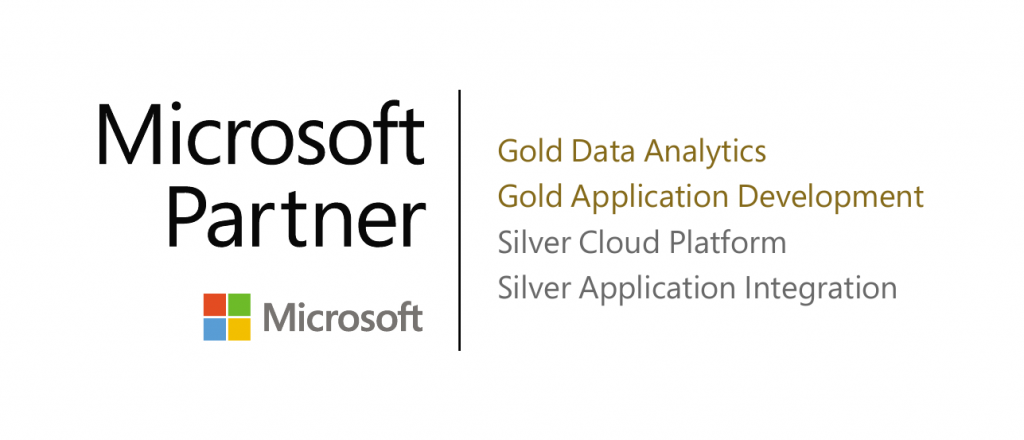 Microsoft Partners worden verdeeld in verschillende categorieën. We laten zien welke categorieën iqbs beheerst, waarbij we middels dit certificaat aantonen dat we experts zijn op dit gebied, alle benodigde competenties beheersen om Microsoft BI oplossingen aan te bieden.
Als Microsoft Gold- en Silver Partner hebben wij veel voordelen bij het implementeren van Microsoft oplossingen. Onze consultants hebben Microsoft certificeringen waardoor we experts zijn op het gebied van Business Intelligence. Daarnaast hebben we toegang tot officiële Microsoft documentatie en trainingen, waardoor we onze klanten beter kunnen helpen. Als Silver partner kunnen we aantonen dat we voldoende competenties en expertise in huis hebben betreffende Cloud Platforms en Application integratie. Met ons Microsoft Gold Partnership voor Data Analytics en Application Development laten we zien dat wij tot de top van de Microsoft partners horen en uitblinken in deze categorieën.
Wil je meer informatie over Microsoft BI?
Bekijk onze technologie of stel je vragen!