Het delen en samenwerken met complete BI-dashboards is nu nog makkelijker door een naadloze integratie met SharePoint en Teams. Gebruik je al Teams? Na het lezen van dit bericht wil je zeker aan de slag met een optimale BI-inzet in deze app!
Niet alleen is het mogelijk om een tabblad voor Power BI toe te voegen; in sommige gevallen is het beter om gegevens uit verschillende bronnen eerst te combineren in een SharePoint page. SharePoint heeft een lange geschiedenis in het leveren van een eersteklas platform voor BI-dashboards. Met een site of pagina in SharePoint kun je de inhoud vanuit bijvoorbeeld Power BI en Excel samenvoegen in rijke en overzichtelijke content. SharePoint lijsten (en pagina's) kunnen vervolgens worden geïntegreerd in Microsoft Teams, waardoor alle inhoud naar de samenwerkingsomgeving van Teams wordt gebracht. On premise zijn een aantal veranderingen doorgevoerd binnen SharePoint. Power Pivot en SQL zijn niet langer meer beschikbaar via de server. Gelukkig zijn de Business Intelligence functies nu beschikbaar via tools als Power BI, Excel Online en Power BI Report server.
Inmiddels is Microsoft Power BI al weer vijf jaar dé visualisatietool voor alle soorten data. Met deze tool kan je prachtige interactieve rapporten maken die op meerdere manieren kunnen worden gebruikt, waardoor het voor iedereen toegankelijk is.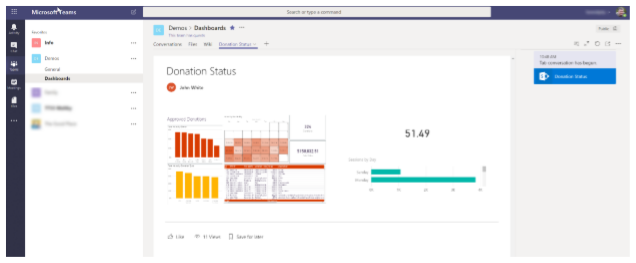 Excel Services was tot de laatste jaren een kernonderdeel van SharePoint en was de belangrijkste tool voor het delen van dashboards. In 2016 is Excel van een gedeelde applicatie die op SharePoint draait, overgegaan naar een Office Online-suite die naast SharePoint draait en er verbinding mee maakt. Excel zelf is een eersteklas Business Intelligence client. Het bevat de belangrijkste analysefuncties van Power BI Desktop (zoals Power Query, Power Pivot en zelfs Power BI visuals). Excel documenten kunnen worden gepubliceerd naar de Power BI service, wanneer ze een gegevensmodel bevatten kunnen ze ook automatisch worden vernieuwd. Dit kan alleen als het bestand ook is opgeslagen in OneDrive of een SharePoint documentenbibliotheek.
Microsoft Teams is dé hardst groeiende applicatie van het afgelopen jaar. En terecht! Samenwerken, content delen en inhoud organiseren is nog nooit zo gemakkelijk geweest. Het is gebruiksvriendelijk, betrouwbaar en interactief. Zo ook de SharePoint-pagina's die je kunt insluiten in een Team. Hierdoor kunnen organisaties niet alleen dashboards distribueren, maar ook gesprekken rond het dashboard in gang zetten, de betekenis ervan verduidelijken of verbeteringen voorstellen. Dit alles doe je eenvoudigweg door een tab toe te voegen via de + in het menu van het team.
Rapporten van Power BI, Excel en SQL Server Reporting Services kunnen naadloos op één pagina worden geïntegreerd. Moderne SharePoint-pagina's hebben bovendien de meest uiteenlopende opties voor het inzetten van dashboards. Tot slot zijn ze zeer gebruiksvriendelijk, mede door het mogelijke gebruik via elk wenselijk device.
Wij zijn enthousiast! Benieuwd naar meer of heb je vragen? Lees meer over Power BI, kom naar onze Power BI-inspiratiesessie of stuur ons gerust een bericht!