Je weet waar je naar toe wilt met je bedrijf of afdeling. Je hebt grip op je datastromen, een beheerd en veilig datawarehouse en je dashboards en rapportages geven real time inzicht in waar je staat. Met de stip op de horizon in beeld, rijst de vraag: hoe kom ik daar?
Hoe zijn we hier gekomen?
Als we kijken naar onder andere Gartner, zie je dat er verschillende, volgtijdelijke stappen te onderscheiden zijn in de analyse van data en inzichten uit je BI framework . Bij iqbs bekijken predictive analytics in die context: het is een volgende stap om meer waarde te halen uit de investeringen in BI.
Je analyse kan descriptive zijn en beschrijft dan wat er is gebeurd: de order intake deze week is 143. De diagnostic analysis vult deze informatie aan met relevante vragen over bijvoorbeeld het aantal nieuwe klanten, of de margeontwikkeling. Zo kun je betere beslissingen nemen. 
Op basis van alle data die je hebt, kun je voorspellen welke order intake je de komende weken kunt verwachten. In welke regio kun je ze verwachten? Komt je marge onder druk? Het antwoord hierop vind je door predictive analyse.
Zo kun je in kaart brengen wat je kunt verwachten als je zo door gaat. In sommige gevallen wil je dan bijsturen; bijvoorbeeld als de voorspellingen een teruglopende marge laten zien. Met prescriptive analyse stel je vast aan welke knoppen je kunt draaien en ook welke kant je op moet draaien. Een eenvoudige manier om dit te doen is door het doorrekenen van scenario's.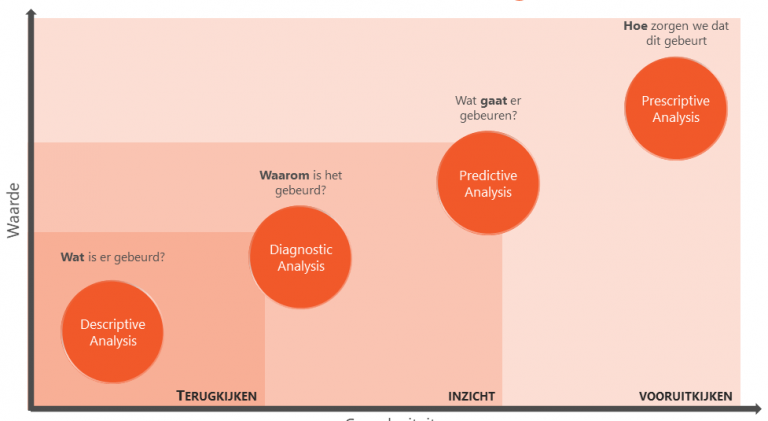 Eigenlijk doet iedere ondernemer, iedere manager, dit al jaren. Er komt alleen steeds meer technologie beschikbaar om dit sneller, effectiever en breder te doen. We analyseren niet de afgelopen maand, met 4 variabelen, maar bijvoorbeeld 5 jaar op basis van 150 variabelen. Door het meenemen van meer informatiesystemen worden de voorspellingen steeds nauwkeuriger.
Starten met predictive start bij de basis. Het is een open deur, maar het is toch echt waar. De brondata moet betrouwbaar, volledig en actueel zijn. Het is het fundament waarop je verder gaat bouwen, en dat moet goed zijn. Dit doe je bijvoorbeeld met het iqbs framework.
De kracht van visualisatie
In veel van onze projecten maken we al een start met het predictive niveau van Business Intelligence. Doordat we data visualiseren, helpen we mensen al snel trends te zien. Het plotten van orders op een kaart geeft bijvoorbeeld heel snel spreiding aan in regio's. Zo maak je al een begin in het zelf herkennen van patronen.
Visualisaties met Power BI zijn interactief. Ze geven je de kracht om snel door informatie heen te gaan en je aandachtspunten te bepalen. Op dat vlak kunnen onze consultants je helpen om ook voorspellingen te doen. Gaat het om een eenmalige afwijking, of is er juist een negatieve trend ingezet? Wij beantwoorden, samen jou, deze en andere vragen.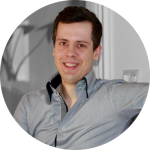 Met onze hulp is data snel beschikbaar en doe je betrouwbare analyses. Wil je daarnaast nog meer controle over de data van jouw organisatie? We helpen je graag met voorspellende algoritmes.