Deze kwartaalupdate brengt een aantal significante en opmerkelijke Power BI-updates naar voren. We nemen je graag mee in de recente ontwikkelingen. 
Vernieuwde dataverversing
Je kan nu nauwkeuriger de status van je datasetverversingen begrijpen en problemen sneller oplossen. Met de vernieuwde Refresh History-pagina heb je namelijk toegang tot gedetailleerde informatie over elke refresh, zelfs als deze mislukt is. Dit betekent dat je niet alleen inzicht krijgt in waarom een refresh is mislukt, maar ook waarom het langer duurt dan verwacht.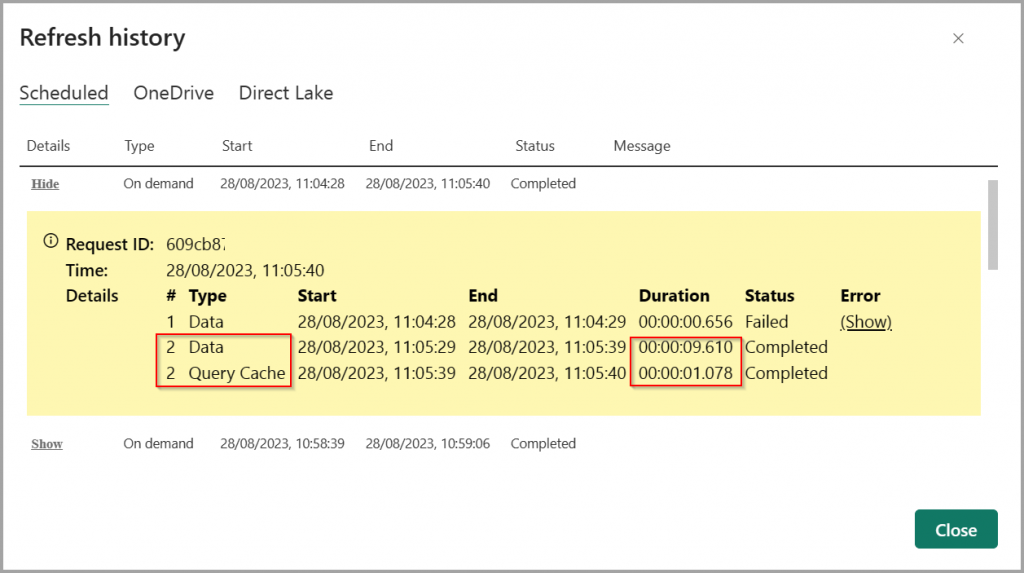 Een van de meest waardevolle aspecten van deze update is het feit dat Power BI automatisch meerdere pogingen doet om een dataset te verversen als er een fout optreedt. Hierdoor kan je begrijpen waarom een refresh langer duurde dan verwacht, ook als deze uiteindelijk slaagt. Deze informatie kan erg waardevol zijn voor het optimaliseren van de prestaties van datasets. Bovendien scheidt de update de geplande refresh twee duidelijke stappen: het laden van gegevens in de dataset en het vernieuwen van de querycache.
Een opvallende nieuwe functie is de mogelijkheid om eenvoudig verbonden tabellen rechtstreeks in Excel-werkbladen in te voegen, zonder Excel te verlaten. Dit betekent dat je nu makkelijk gegevens kan toevoegen aan je Excel-bestanden met behulp van een intuïtieve interface in Excel Desktop. Deze nieuwe functionaliteit vereenvoudigt het proces van gegevensinvoer en maakt het toegankelijker voor een breder scala aan Excel-gebruikers.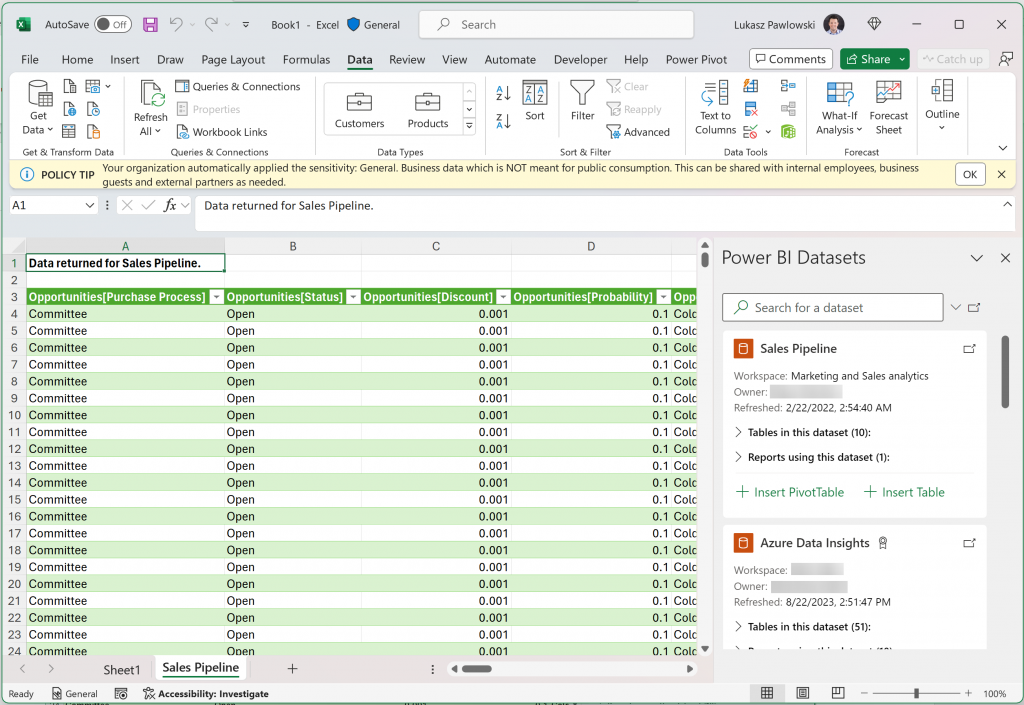 Een andere belangrijke verbetering is de mogelijkheid om verbonden werkboeken te creëren vanuit de OneLake Data Hub-ervaring. Wanneer je naar een dataset in Power BI gaat, kan je nu kiezen voor de nieuwe optie Exporteren met Live-verbinding (.xlsx) in het Export-menu. Hierdoor wordt een gekoppeld Excel-werkboek gemaakt dat dezelfde verbonden tabellen bevat als eerder besproken, of dit nu is bij het maken van nieuwe query's of bij het bekijken van interactieve rapporten. 
Een optionele parameter genaamd variant is toegevoegd aan zowel MINX als MAXX, waardoor je de mogelijkheid hebben om tekstwaarden te includeren in de evaluatie van je measures. Standaard negeren MINX en MAXX tekst en true/false bij het verwerken van gegevens met gemengde typen, maar door 'variant' in te stellen op TRUE kunnen nu ook tekstwaarden worden overwogen.

Deze update is van cruciaal belang voor gebruikers die werken met complexe gegevenssets waarin verschillende gegevenstypen voorkomen. Je kan ervoor kiezen om de nieuwe functionaliteit toe te passen door simpelweg de derde parameter van de functie in te stellen op TRUE wanneer dat nodig is.
Je kan nu gedetailleerde machtigingsinformatie bekijken voor een specifiek individu terwijl je een rol test voor die persoon. Deze update is van groot belang voor organisaties die strikte toegangscontroles en gegevensbeveiliging nastreven. Een opvallende toevoeging is de mogelijkheid om rollen te testen in de Power BI-service. Je kan nu eenvoudig controleren of de door jouw gedefinieerde rollen correct werken. Door simpelweg de rol te selecteren en te kiezen voor Gegevens testen als rol worden ze direct naar het relevante rapport geleid, waar je kunnen controleren of de beveiliging op rij-niveau functioneert.
Een ander belangrijk aspect van deze update is de verbeterde zichtbaarheid van machtigingsdetails. Dit biedt organisaties de mogelijkheid om de toegang tot gevoelige gegevens nog nauwkeuriger te beheren en te verifiëren. Bovendien zijn de waarschuwingen en foutmeldingen in Power BI verbeterd, wat de foutopsporing en probleemoplossing aanzienlijk vereenvoudigt.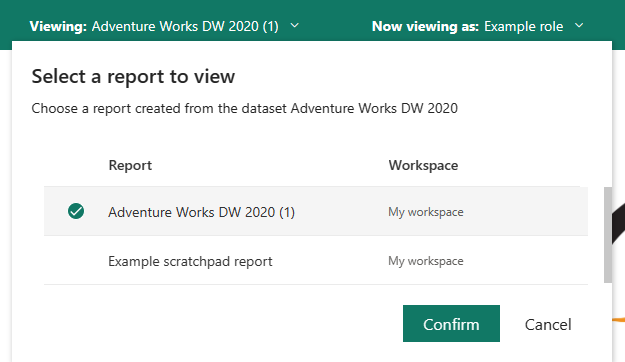 Zebra BI visuals nu nog makkelijker
Onze BI partner Zebra heeft in een recente update nieuwe on-visual instellingen gelanceerd waardoor het aanpassen van rapporten nog intuïtiever wordt. Met deze update hoef je niet langer door de instellingspanelen te navigeren om wijzigingen aan te brengen. Bijvoorbeeld, door te klikken op het categoriegebied in een Zebra BI grafiek, kan je nu eenvoudig de opmaak van aslabels aanpassen, lange labels bijsnijden of draaien, de labeldichtheid instellen en de ruimte tussen kolommen beheren.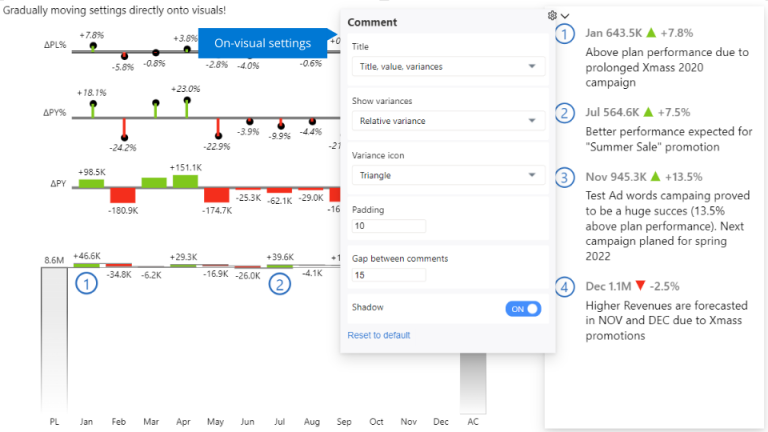 Deze update geeft de mogelijkheid om gestapelde grafiekinstellingen direct op de visual aan te passen. Je kan nu eenvoudig een specifieke serie markeren of omkeren door erover te zweven en de optie te selecteren. Bovendien kunnen algemene instellingen worden aangepast door over de namen van de series te zweven en ergens te klikken. Dit betekent dat je niet langer de instellingspanelen hoeft te doorlopen voor elke wijziging, waardoor het proces efficiënter wordt.
Meer weten over de mogelijkheden van Power BI?
Ben jij benieuwd welke mogelijkheden deze nieuwe updates bieden voor jouw organisatie? Of wil je eens sparren over Power BI? Neem dan gerust contact met ons op. Je kan direct een afspraak met onze sales-collega Wouter inplannen via onderstaande knop.