Microsoft doet maandelijks updates voor Power BI om deze technologie zo innovatief mogelijk te houden. De laatste tijd zijn er wat grotere updates gedaan die we graag met je delen om jou ook helemaal up-to-date te houden over handige nieuwe functies en tools binnen Power BI.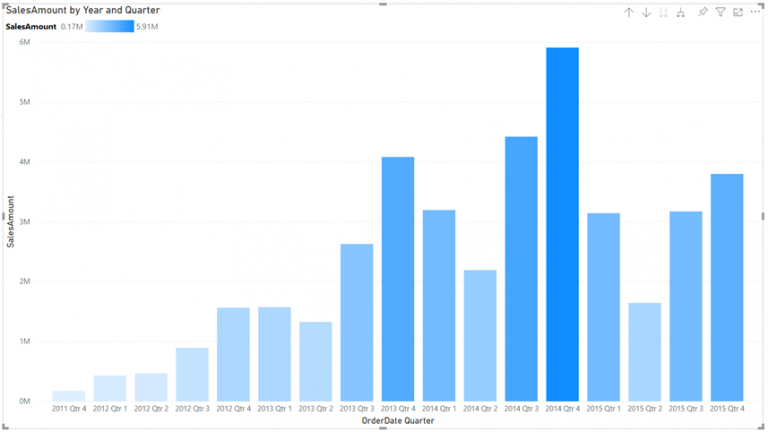 De Gradient legend is nieuw, hiermee kun je een legenda maken voor gegevenskleuren die voorwaardelijk in een kleurenschaal zijn opgemaakt. Deze gradient legenda kan je helpen bij het verduidelijken van de betekenis van kleuren in een visualisatie. Hiermee zal degene die de Power BI rapportage uiteindelijk gebruikt een nog duidelijkere rapportage voor zich zien.
Microsoft heeft nieuwe toevoegingen gedaan aan de Q&A configuratie van Power BI, op de plek waar je tabellen en velden kunt beheren en specifieke tabellen kunt opnemen of uitsluiten van een Q&A. De sectie 'field synonims' toont een lijst van alle tabellen die je gebruikt in je datamodel. Als je hierbij 'opnemen in Q&A' uitschakelt wordt alles in de tabel direct verborgen voor Q&A. Wanneer je dan een tabel uitvouwt zie je de tabelnaam en alle velden met termen en voorgestelde termen. Naast het promoten van de voorgestelde termen kun je ook nieuwe toevoegen, verwijderen of de termen opnieuw ordenen.
Daarnaast is ook de pop-out functie bijgewerkt. Wanneer je een Q&A knop aan een rapport toevoegt, zie je dat de pop-out overeenkomt met een visuele Q&A ervaring. Het bevat ook alle voorgestelde vragen die je vooraf hebt gedefinieerd in de Q&A configuratie. De vragen die zijn opgeslagen worden voortaan samengevoegd onder het gedeelte met de voorgestelde vragen.
Vanaf juli zijn er een aantal nieuwe visualisaties beschikbaar voor jouw Power BI dashboards. Denk bijvoorbeeld aan Azure Maps, Bubble Layer en een laag met 3D staafdiagrammen.
Met de bubble layer kun je locatiegegevens weergeven als schaalcirkels op een locatiekaart. Je kunt hiermee een lineaire schaalmethode gebruiken. Je kunt waardes doorgeven aan het legenda veld en de kleur en omlijning van de cirkels dynamisch instellen.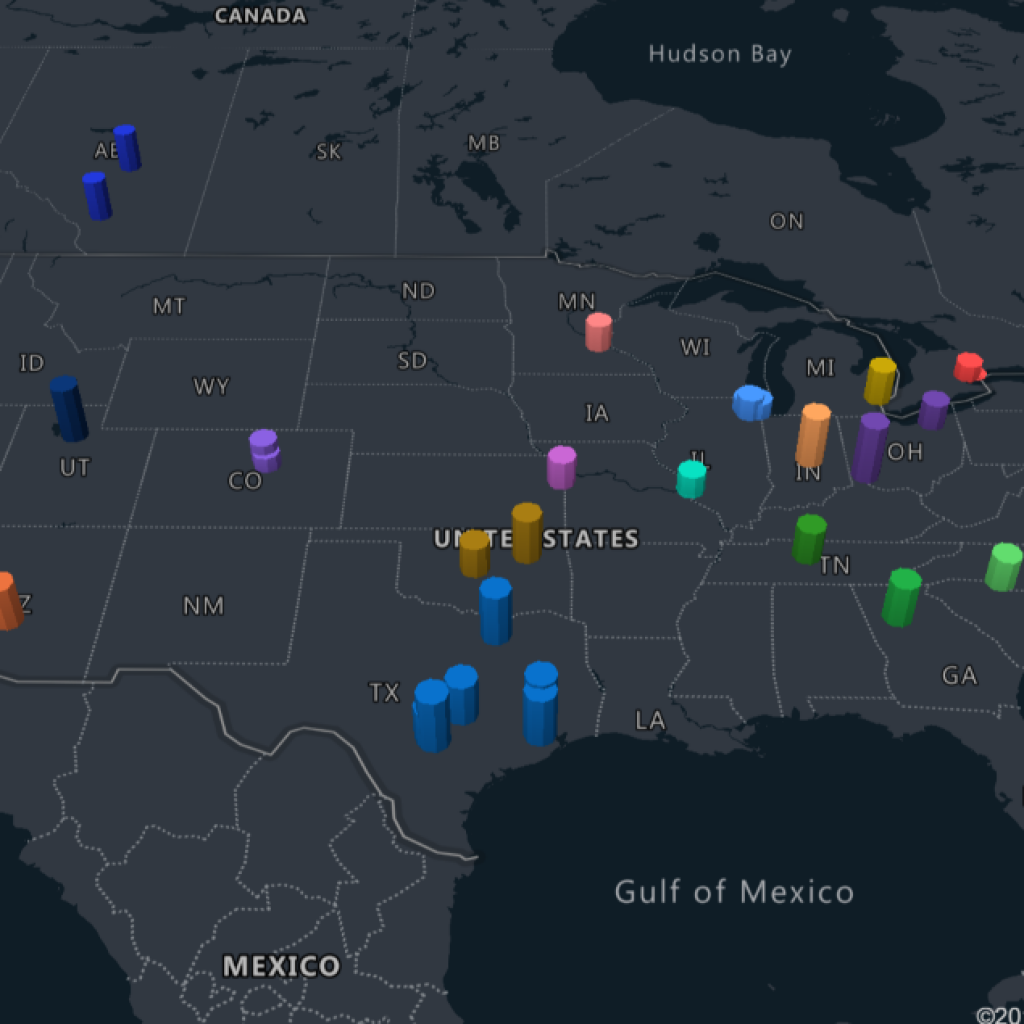 In Power BI kon je een enkele dataset verbinden met een visual, maar wanneer je met kaarten werkt is het vaak wenselijk om extra gegevenslagen te gebruiken. Zo kun je namelijk meer context aan een rapportage toevoegen. Met de nieuwe functie kun je een GeoJSON-bestand met aangepaste locatiegegevens uploaden en over de kaart plaatsen.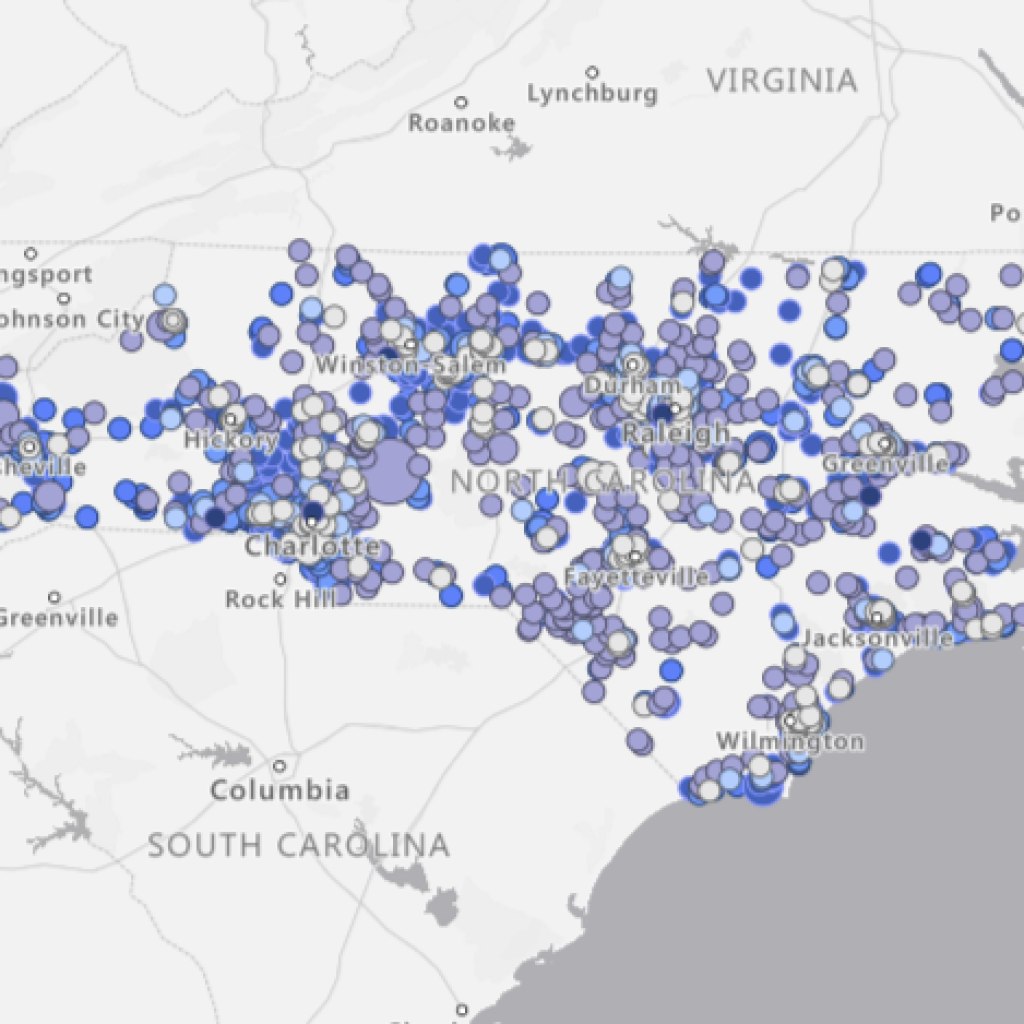 Met de 3D staafdiagrammen kun je je data naar de volgende fase brengen door de visualisatie van locatiegegevens als 3D-cilinders op de kaart aan te duiden. Gebruikers kunnen de kaart kantelen en draaien om jouw data vanuit verschillende perspectieven te bekijken.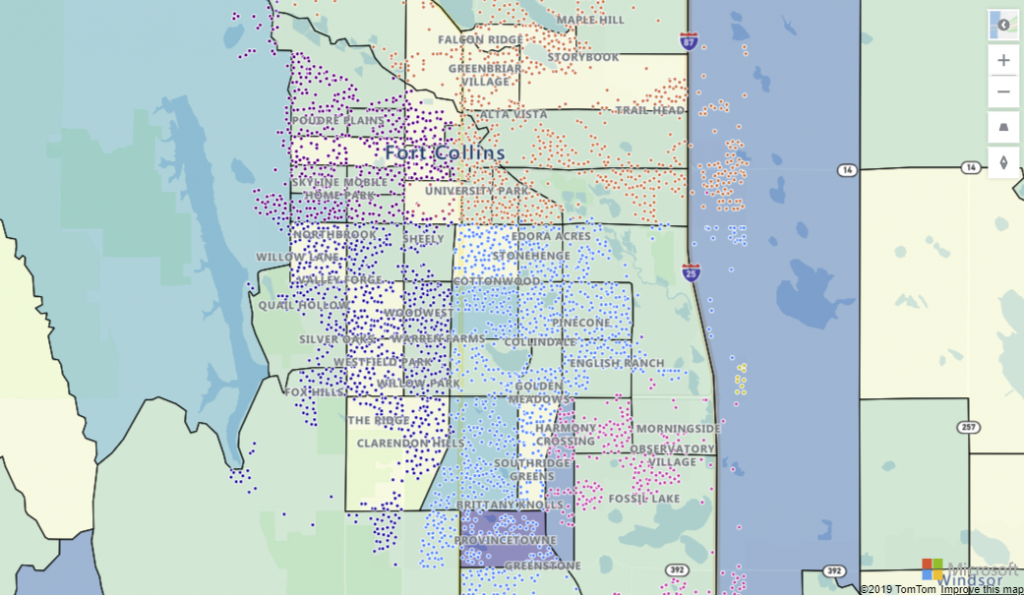 Een lang gekoesterde wens bij veel financiële professionals was dat de DAX de ingebouwde financiële functies van Excel meer moest ondersteunen. Met de release van juli zijn er maar liefst 49 financiële functies aan DAX toegevoegd. Daarnaast heeft Microsoft ook de modelweergave ingeschakeld voor live verbinding, deze is nu algemeen beschikbaar.
Wanneer je met databronnen zonder schema werkt (zoals webpagina's en bestanden) probeert Power Query automatisch kolomkoppen en typen te detecteren op basis van die gegevens. Het is nu ook mogelijk om deze automatische detectie uit te schakelen. Met de Power BI Desktop release van juli is er nu de algemene optie waarmee Power BI-gebruikers automatisch de koptekst en typedetectie kunnen uitschakelen voor databronnen zonder schema.
Je past het hier aan: Opties > Globaal > Gegevens laden.
Externe tools starten vanuit Power BI

Ook de uitbreidbaarheid van externe tools in de Power BI omgeving is geüpdatet. Hierdoor kun je extra waarde toevoegen aan je Power BI rapportages door externe tools te gebruiken. Denk hierbij bijvoorbeeld aan aanvullende Analysis Services Engine-functies voor BI-professionals of DAX-query optimalisatie en ALM (application lifecycle management). Je kunt dit binnenkort vinden in het 'external tools lint' waarbij je (bij Power BI Desktop geregistreerde) jouw geïnstalleerde tools kunt toevoegen. De externe hulpprogramma's die je dan start, worden automatisch met de Analysis Server Engine verbonden, waardoor Power BI en de gewenste tool naadloos kunnen samenwerken.
Deze updates zijn allemaal in juli 2020 doorgevoerd en zullen binnenkort beschikbaar zijn in jouw Power BI Desktop-omgeving. Heb je nog vragen over Power BI of wil je kijken welke updates handig zijn voor specifiek jouw organisatie? We denken graag met je mee.
Wil je meer weten over de mogelijkheden van iqbs BI en Power BI voor jouw bedrijf? Maak dan een afspraak of vraag een gratis demo aan.